Steven Soderbergh to retire from films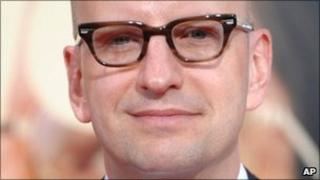 Steven Soderbergh has announced his retirement from film-making, saying his next two films will be his last.
"When you see those athletes hang on one or two seasons too long, it's kind of sad," the Oscar-winning Traffic director told US radio show Studio 360.
Soderbergh, 48, is planning a Liberace biopic, with Michael Douglas and Matt Damon, and a film version of The Man from U.N.C.L.E. with George Clooney.
Both were "a great way to sort of step off", he added.
Cannes breakthrough
Soderbergh, who in 2001 was nominated for the best director Oscar for both Traffic and Erin Brockovich, said: "When you reach the point where you're like, 'if I have to get into a van to do another scout I'm just going to shoot myself', it's time to let somebody else who's still excited about getting in the van, get the van."
He said he had "a sense of having been there before".
Making art was about solving problems but "at a certain point the solves sort of become the same", he added.
The film-maker, who plans a new career in painting or photography, said that for the past three years he had "been turning down everything that comes my way".
Soderbergh became the youngest winner, at the age of 26, of the Palme d'Or at the Cannes Film Festival for his 1989 film Sex, Lies, and Videotape, starring Andie MacDowell.
Other successes include the Ocean's franchise - starring actors including Clooney, Damon, Brad Pitt, Catherine Zeta-Jones and Julia Roberts - and his 2008 Che Guevara biopic.
Aside from the Liberace and The Man from U.N.C.L.E. films, Soderbergh has two completed films due for release.
Action film Haywire, starring Antonio Banderas and Ewan McGregor, is due out next month while thriller Contagion, featuring actors including Kate Winslet and Jude Law, is expected later in the year.