Adele's UK chart reign stands firm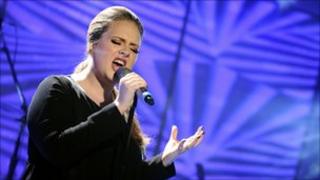 Adele has continued her reign at the top of the UK album and singles charts this week.
Her single Someone Like You is now enjoying its fourth week in the top spot, while her album 21 has been number one for seven weeks.
Elbow reached their highest album chart position to date, with Build A Rocket Boys! debuting at number two.
Adele still has two other top 40 singles - Rolling In The Deep at nine and Make You Feel My Love at number 33.
In the singles chart, Jessie J featuring B.O.B's Price Tag is at number two, Rihanna's S&M is at three, while Lady GaGa's Born This Way is at number four.
The highest new entry at number five was Black and Yellow from US rapper Wiz Khalifa.
The second highest new entry on the album chart, after Elbow, was Collapse Into Now by REM, their 15th new album on their 30th anniversary.
Other top 10 new entries were Noah and The Whale's Last Night on Earth and Avril Lavigne's Goodbye Lullaby.
Adele's debut album 19 is at number four.
The singer-songwriter swept to the top of the UK singles chart last month after a critically-acclaimed acoustic version of Someone Like You at the Brit Awards.
The single shot up the chart 46 places to grab the number one spot on 20 February.