Puccini in a pub triumphs at Olivier Awards
By Tim Masters
Entertainment and arts correspondent, BBC News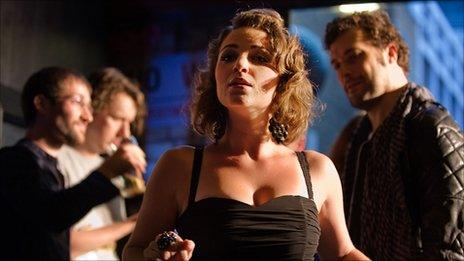 It was a battle of David and Goliath set in the world of opera.
A production of Puccini's La Boheme, which started life in a tiny pub theatre, has slain the might of five international opera companies.
The show, put on by OperaUpClose, won the best new opera production prize at Sunday's Olivier Awards.
Director Robin Norton-Hale took Puccini's classic story and gave it a contemporary twist. It is now set in present day Kilburn, in London, with aspiring novelist Rodolfo working on a laptop.
"It's a genius piece by Puccini," Norton-Hale tells the BBC shortly after her Oliviers win.
"But when you see it in Italian and you've got a soprano in her 40s playing a 20-year-old, it doesn't have the same impact.
"I took it and I set it in Kilburn and I thought 'who are these people?' - they've just left university and they're wondering what to do with their lives.
"We just made it easier for people to understand what the drama was trying to say, and the music does its own work."
La Boheme opened at the 35-seat Cock Tavern pub theatre in north-west London at the end of 2009.
It ran for six months, and transferred to Soho Theatre in July 2010, where it sold out for six weeks, and returned for another six-week season in January.
The critics loved it, with What's on Stage describing it as "opera with the gloves off". The Evening Standard said: "This is Puccini without a safety net and it works."
Thought to be the longest continuously performed opera in history, La Boheme is now in rep at London's Little Opera House Theatre in Islington.
"People didn't feel intimidated by it," says Norton-Hale. "They knew they could come in jeans, they knew they could take their pint in. It sounds such a small thing, but it's so important."
At the Oliviers, La Boheme beat Adriana Lecouvreur, which was co-produced by the Royal Opera House, Vienna State Opera, San Francisco Opera, the Liceu, Barcelona, and Opera Bastille.
It was also up against the English National Opera and Young Vic's Elegy for Young Lovers, as well as Nederlandse Opera, ENO and Complicite's A Dog's Heart at the London Coliseum.
Unlike some of its larger cousins, OperaUpClose has no government funding.
Norton-Hale said: "It's hard because you're asking singers who've trained for a decade to come and do a show where they're not going to get paid at the rate they would get at the ROH or ENO.
"We are lucky to have had such great audiences, so we've been able to get away with it. We've proved that opera can be artistically and commercially successful - and we deserve funding."
La Boheme's producer Adam Spreadbury-Maher sees the show's victory as a sign that the usual opera rules no longer apply.
For a start, La Boheme's second act takes place in the theatre bar.
"Act II showed how to get new audiences into opera. It's not about bringing them into the opera but taking the opera to them," he said.
What will be the knock-on effect for places like the Royal Opera House?
"I think essentially new audiences," says Spreadbury-Maher.
"They are not going to lose anybody. It will reinvigorate their existing audience. It's a side entrance for people that are going to the theatre already but have been sceptical about opera."
Steve Marmion, Soho Theatre's artistic director, points out that La Boheme has become the theatre's highest grossing show.
"What a delight it is to see people sat next to each other with 50 years between them," he says.
"There was a homeless guy who used to sneak into the bar for the second act, and he'd bring a date with him.
"One night I saw him hugging this girl who he'd brought to see the opera. Now it didn't do wonders for bar sales - but I didn't care - because it shows what art can do."
Related Internet Links
The BBC is not responsible for the content of external sites.