Sacked star Charlie Sheen sues sitcom makers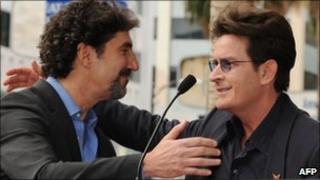 Actor Charlie Sheen has filed a $100m (£62m) legal action against the makers of Two and a Half Men after being fired from the US sitcom.
In court papers filed on Thursday, Sheen claims producer Chuck Lorre spent years "harassing and disparaging" him.
Mr Lorre, the action alleges, "believes himself so wealthy and powerful that he can unilaterally decide to take money away from the dedicated cast and crew".
Mr Lorre's attorney called the claims "recklessly false and unwarranted".
A spokesman for Warner Bros, also cited in the papers filed at Los Angeles Superior Court, declined to comment on the action.
Prior to his sacking, Sheen had a contract with the studio that ran to the end of the 2012 TV season, earning him $2m (£1.2m) per episode.
In his 30-page submission to the court, the 45-year-old claims he was only fired after he began publicly criticising Warner Bros and Mr Lorre.
The studio, he alleges, was "quite happy to line its coffers" while he received treatment for substance abuse and only acted because of Mr Lorre's "egotistical desire to punish" him.
"Charlie Sheen is not only seeking payment of his own compensation for the series, he is also pursuing claims for the benefit of the entire cast and crew [of Two and a Half Men]," court papers also stated.
On Thursday, police searched Sheen's home for guns that might be in violation of a temporary restraining order obtained last week by his estranged wife, Brooke Mueller.
A police spokeswoman said an antique gun had been retrieved and that the actor co-operated with the search.