Julianne Moore to play Sarah Palin in HBO production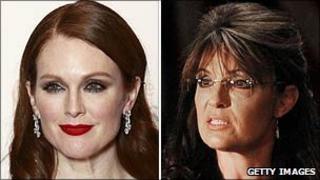 Actress Julianne Moore is to play former vice presidential candidate Sarah Palin in a TV film about the 2008 US elections, HBO has announced.
Game Change will focus on Republican John McCain's presidential campaign and his choice of Palin, then governor of Alaska, as his running mate.
Jay Roach of Meet the Parents fame will direct the film, based on the book by John Heilemann and Mark Halperin.
Moore, 50, is a four-time Academy Award nominee.
She was recently seen as a lesbian mother in The Kids are All Right and played a porn star in 1997 film Boogie Nights.
No other cast members have been announced and it is not yet known when production on the film will begin.
Palin was famously impersonated by comedienne Tina Fey on Saturday Night Live during John McCain's unsuccessful presidential bid.
The Game Change announcement comes amid mounting speculation that Palin is to run for president herself in 2012.