Christie ivories to go on show at British Museum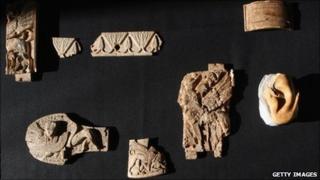 Ancient carved ivories dating back almost 3,000 years are to go on show for the first time after the British Museum bought them for £1.17m.
The 6,000 pieces were found in Assyrian capital Nimrud, in what is now northern Iraq, between 1949 and 1963 in excavations led by Sir Max Mallowan.
His first wife, Dame Agatha Christie, helped with the project and wrote books like They Came to Baghdad while there.
The museum said they were "astonishing objects" of "extraordinary importance".
After Sir Max's excavations, the ivories - which once decorated chariots, furniture and horse trappings - were divided between Iraq and Britain.
The British portion had been been stored out of public view by the British Institute for the Study of Iraq, which has now sold a third of the pieces to the British Museum.
The institute has donated another third to the museum, with the remaining ivories to be returned to Iraq.
British Museum director Neil MacGregor said the pieces were important in increasing understanding of the religion, society and tradition of the Assyrian Empire as well as the wider Middle East.
"Not only are they beautiful but they clearly carry in them a whole set of stories," he added.
A selection of the ivories will go on display next week.
Many of the pieces, which date from the 9th to the 7th Centuries BC, would have been covered with gold leaf and semi-precious stones.
The ivories were originally imported into Nimrud, south of the modern city of Mosul, from cities near the Mediterranean coast.
According to the museum, the items were stripped of their gold by the Babylonians in 612 BC.
The future Dame Agatha helped to clean and preserve the objects, which were found within the Fort Shalmaneser palace.
A room was built on the excavation site so that she could continue to write.