Michael Sheen film to premiere at Tribeca festival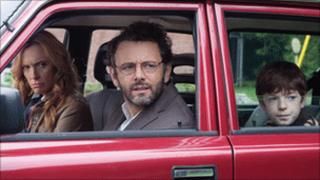 Romantic comedy Jesus Henry Christ, starring Michael Sheen and Toni Collette, is among the films that will premiere at the 10th Tribeca festival.
The tale of a boy's quest to find his real father is among 44 titles lined up for the New York festival, which will feature offerings from 32 countries.
Blackthorn, a western starring Sam Shepard as the outlaw Butch Cassidy, will also be screened.
The festival, which starts on 20 April, will announce more films next week.
Jesus Henry Christ, written and directed by Dennis Lee, was produced by Julia Roberts' production company Red Om.
It stars Michael Sheen as a doctor who discovers he is the biological parent of a precocious child genius.
Other films named in the world narrative features section include Indian drama The Kite and French comedy Romantics Anonymous.
Two coming-of-age films, Sweden's She Monkeys and Norway's Turn Me On, Goddammit, compete in the same category.
The Bully Project offers "rare access and emotionally-charged footage" exploring America's "bullying crisis".
It will compete in the documentary section against Give Up Tomorrow, which highlights corruption in the case of a man convicted of murdering two sisters in the Philippines.
Koran by Heart, about an annual recitation competition in Cairo, and Semper Fi: Always Faithful, an investigation into water contamination in the US, will also feature.
The festival will also include a new section, Viewpoints, that organisers say will offer "a snapshot of international independent cinema".
Gnarr, a documentary about Iceland's economic meltdown, is one of 20 documentaries and features to be included in the inaugural programme.
British film Lotus Eaters, a drama about London's social elite, will also be screened in this part of the festival.
This year's event will open with a screening of a documentary about Sir Elton John, to be followed by a live performance by the singer.
The festival, held annually in the Lower Manhattan area, will run until 1 May.