Golden Globe broadcasting rights case to go to trial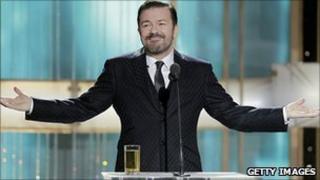 A US judge has ordered a trial to decide who will own the broadcasting rights to the Golden Globe awards for the next seven years.
The Hollywood Foreign Press Association (HFPA), which organises the event, is suing Dick Clark Productions (DCP), claiming it sold broadcast rights without proper permission.
The HFPA also allege the rights to the show were sold to the NBC network for less than they were worth.
The trial will begin on 6 September.
The HFPA claims DCP and its owner, Red Zone Capital Partners, did not have permission to negotiate a long-term deal with NBC because it only had rights to produce the show up to 2011.
Lawyers for Red Zone had argued the contract was ambiguous and had sought to have the case dismissed.
"Now that their attempt to evade responsibility for their bad-faith conduct has been rejected, we look forward to presenting our evidence at trial," the HFPA's lawyer Linda Smith said in a statement.
The trial, she continued, would "establish once and for all that no sale of any rights connected to the Globes is possible without the HFPA's participation and consent."
Other claims by the HFPA of copyright infringement and seeking an accounting of profits will be decided later.
Dick Clark Productions said it would wait until the judge's final written ruling was issued before making any comment.
Held each January, the Golden Globes is the first major prize-giving event of the Hollywood awards season.
British comedian Ricky Gervais hosted the last two ceremonies, making headlines this year with his acerbic jibes.