Pet Shop Boys find their ballet beat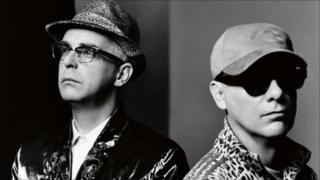 Electro-pop duo the Pet Shop Boys have for decades been filling club floors with hits such as West End Girls and Go West.
Now, they've turned their music skills to the very different dance form of contemporary ballet, inspired by Hans Christian Andersen.
They've written the score to The Most Incredible Thing, a ballet adapted from one of Andersen's lesser-known stories of the same name and soon to be premiered at Sadler's Wells, London.
It's by no means the first time the duo's Neil Tennant and Chris Lowe have ventured into other areas of the performing arts.
They are already credited with the score and lyrics to the musical Closer to Heaven, their soundtrack to Eisenstein's film classic Battleship Potemkin and the music for David Almond's play My Dad's a Birdman.
Their elaborate, theatrical tour shows have become the stuff of legend too.
But their first foray into ballet, The Most Incredible Thing - choreographed by the award-winning and controversial Javier De Frutos and featuring star dancer Ivan Putrov - has piqued the interest of their fans and dance enthusiasts.
Tennant and Lowe know they have to please a wide cross-section of people.
"The range of the audience is a challenge," says Tennant. "Hopefully our fans will be interested in the dance, although it will probably be the first time some of them have been to a ballet."
Nonetheless, he says, a project such as this was, in career terms, part of the natural order of things.
"We don't ever want to do something everyone else is doing and this seemed fresh, not only for us but also for pop music.
"We've never been afraid to explore areas not normally covered by pop. Our pop is dance music but you should be able to go into contemporary dance too - it's fun and exciting."
'Power and glamour'
The Andersen fairytale will also be fresh for many. It tells the story of a king who sets his people a challenge to present "the most incredible thing", with a prize of half his kingdom and marriage to the princess.
One hopeful creates a magnificent clock containing the whole of creation only to see it destroyed by a jealous rival. Ultimately, the clock miraculously comes back to life, leading to a happy ending.
Tennant says he liked the story because it represented the "fascinating drama, energy, power and glamour of everyday life.
He read its meaning to be that "you can't kill an idea. You can kill the physical reality of something but the ideas live on".
But it was Lowe who came up with the ballet idea after buying a collection of Andersen's tales.
"Some of them are quite twisted with odd endings. Reading The Most Incredible Thing, I thought it would make a great ballet. It's a traditional story for a classic Tchaikovsky work."
There Lowe's thought would have ended, but for Tennant remembering he'd had a call from Royal Ballet star Putrov, asking if they would write some music for him.
Tennant and Lowe had become friends with Putrov through their work with the artist and director Sam Taylor-Wood.
"Ivan wasn't anticipating what we came up with, I think he was just asking for some music to the Seven Veils, he got a bit more than that - a full three-act ballet with a narrative," says Lowe.
Tennant says the coincidence was "weird" but dismisses the idea that fate has been at play in their careers. (Tennant and Lowe met by chance in a London music store in 1981).
"It's more about seizing the opportunity," he says.
Putrov introduced them to Sadler's Wells, who brought in playwright Matthew Dunster to set down, scene by scene, emotion by emotion, the "music map" Tennant and Lowe followed to create their score.
And that score has turned into a track list of 21 pieces of music, divided into three acts in the tradition of classical ballet.
"It's only a short story but it has so much content," says Lowe. "So when you come to write music, it's a lot."
But just how much of that music, to be performed by a 26-piece orchestra, is undeniable Pet Shop Boys fare?
"I think some fans will be disappointed we're not actually in it, perhaps we could have taken a couple of roles, Neil could have been the king," says Lowe.
"Overall the music is part of the Potemkin product range, mainly orchestral with electronics. That's not to say it's without catchy tunes, there are lots of melodies and themes. Miked up very loud it should sound amazing."
Russian theme
As the man charged with putting movement to this music, Javier De Frutos admits that, despite his 20 years experience, he has faced a big feat.
"This work has forced me to work in a more angular way when my movements are normally softer, more Latin," he says.
"When I heard the music, I didn't hear pop, I heard Russian Constructivists, 1920s marches, militaristic stuff. The boys adore that kind of thing so that's the way I have gone - go West as they say."
The choreographer, who has previously ruffled feathers by dancing nude and creating a ballet featuring a deformed pope abusing a pregnant nun, was bemused to be told this production should be "a family show".
"I didn't know what the hell that meant. And they didn't tell me what type of family," he says.
The Russian theme has been carried through to the set and costumes, which are described by designer Katrina Lindsay as "naive".
But De Frutos has used video representations of the action in parts, a move he considers in keeping with the ballet's mix of classical meets new.
As for working with pop stars, De Frutos - who directed Mika on the video for We Are Golden - sees it as an entirely normal thing for ballet producers to be doing.
"When Swan Lake was done for the first time, Tchaikovsky was working with contemporaries, and the Pet Shop Boys are contemporaries of mine. We are not reinventing the wheel but following tradition," he says.
With Sir Paul McCartney recently announcing he too was writing the music to a ballet, De Frutos's vision could be realised.
For Tennant and Lowe more ballet is off the agenda, at least for now. They are back writing a new album and at the back of their minds is another musical.
"We'd like to write another one but trying to find the right story is really hard. You need luck and inspiration," says Lowe.
"We'd want to do something totally original. Pity the Bible's been done. I suppose we'll just have to read more. But if anyone's got a good idea..."
The Most Incredible Thing will be at Sadler's Wells from 17- 26 March. The ballet's score will be released on 14 March.