Obituary: Joan Fontaine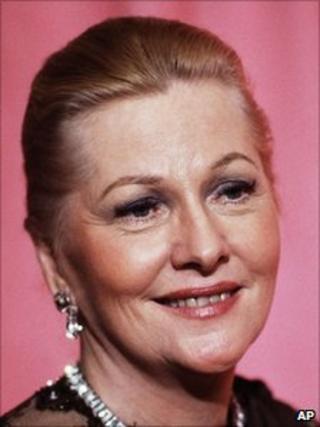 Joan Fontaine was the star of several Hollywood classics such as Rebecca and Jane Eyre and the only actor ever to win an Oscar for an Alfred Hitchcock film - Suspicion in 1941.
Born in Japan in 1917, Joan Fontaine's father Walter de Havilland was a patent lawyer and her mother Lillian had been a drama student in London.
Her older sister Olivia was a much bonnier child and the sickly Joan grew up in her shadow with the regular taunt of "Livy can, Joan can't".
When Joan was two her mother moved with her daughters to California for their sake of their health, while their father remained in Japan. Divorce soon followed and Lillian later married George M Fontaine, having been introduced to him by her own daughters.
Fontaine's acting career began with theatre work in 1934. To distinguish herself from her already successful sister, Olivia, she tried different surnames, eventually settling on her stepfather's, and began getting small parts in films such as You Can't Beat Love.
Her big break came by a chance encounter in 1940.
She mentioned to the "bespectacled man" sitting next to her at dinner in Charlie Chaplin's house she was enjoying reading Daphne Du Maurier's novel Rebecca. That dinner companion was David O Selznick - the film he was currently casting was Rebecca and, seven auditions later, the part of the second Mrs de Winter went to Fontaine.
The actress enjoyed working with director Alfred Hitchcock on Rebecca but was less enamoured with Laurence Olivier whom she said resented the fact the part hadn't gone to his wife Vivian Leigh.
"I was treated rather as though I had leprosy," she once said. But she also felt being ostracised by him on set enhanced her ability to portray the character of the diffident second wife.
Flourishing career
Hitchcock also directed Fontaine in Suspicion for which she won the best actress Oscar in 1941, dramatically beating her sister Olivia de Havilland who had been nominated for her role in Hold Back the Dawn.
By now a major star, a host of successful films followed including A Constant Nymph (one of her own personal favourites), Jane Eyre, Frenchman's Creek and Letter from an Unknown Woman.
She continued to work well into her 70s, making her last screen appearance in 1994 in the television film Good King Wenceslas.
The professional rivalry between Fontaine and her sister continued throughout their careers.
Harmony in marriage also eluded the actress. In all she had three husbands including actor Brian Aherne, who, on hearing she had won the part in Rebecca while they were on honeymoon, suggested, "Why don't you just do it for hat money?".
Joan scored 160 on an infant IQ test, could fly a plane and loved fishing; she regularly lectured in her later years and will be remembered as one of the finest screen actresses of her generation.