Damsels in distress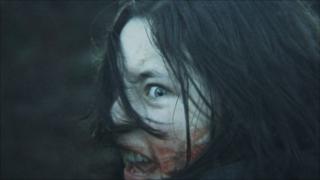 When Kathryn Bigelow accepted her Oscar for best director last year, making her the first woman in the Academy Awards' 82-year history to do so, many people recognised it as a pivotal moment.
Yet, a year on - the figures show little has changed for women film-makers in the UK.
According to the most recent UK Film Council report, women directed just 17% of British films in 2009 and female screenwriters are credited on just over 16% of them.
Over the next two weeks, the annual London-based Birds Eye View film festival is shining a light on the work of women working in film at a domestic and international level.
Festival director Rachel Millward says encouraging talented women into a career in the film industry is a "long haul investment", explaining that it will take longer than a year to change things.
"Since the recession, more women have left the film and television industry than men so it's a vulnerable time," she says.
"What I think is important about having a balanced perspective coming from film, is that film has a knock-on impact on the rest of society.
"If you end up without strong female characters on screen in mainstream movies, then that affects the way women see themselves."
Millward praises the outgoing UK Film Council for its support of young women but adds "we have to be very careful at the moment with all the cuts that are happening, that we don't have this idea that talent will out in a really simple way."
Bloody women
Last year, more than £1bn was spent on UK film production, most of that money coming from international studios filming in the UK.
But the number of domestic productions was down 11% from the year before. There are fears that the closure of the UK Film Council, a victim of the government's drive to slash the number of quangos, will leave UK film-makers, in particular women, without a champion.
"The pool of film writers in the UK is tiny and the vast majority are male so one of the biggest things that needs to be done is bring women writers through and connect them to everybody, to make producers and commissioners aware of them," says Millward.
If the small percentage of women directors working in the mainstream is sobering, when it comes to horror movies of today - the percentages drop even lower.
One of this year's festival strands - Bloody Women - looks to celebrate women's role in horror.
Women have been making invaluable contributions to the genre from its earliest days, whether it be Clara Beranger, screenwriter of 1920 horror Jekyll and Hyde starring John Barrymore, or silent screen legend Lillian Gish starring in 1928's The Wind as a woman terrorised by the elements in a ramshackle rural cabin.
Bigelow herself directed cult vampire road movie Near Dark in 1987. All three films are showing as part of the festival.
But it goes back even further, as far back as 1905 in fact when Frenchwoman Alice Guy-Blache directed the silent short film Esmerelda - the oldest film adaptation of The Hunchback of Notre Dame.
Actress and presenter Emily Booth has starred in several low-budget British horror movies, most recently opposite Stephen Graham and Noel Clarke in Doghouse.
She partly blames people's misconceptions about the genre for a lack of women working in the field.
"A lot of people see horror as one down from porn," she explains. "In the 70s there were a lot of exploitation movies and also the video nasties scandal of the 80s gave horror a bad name.
"But as far back as the 70s, there were films like The Shining which are clever, psychological, intelligent and get under your skin so you can't see horror as just the slasher film."
Horror movies, like so much else in life, enjoy something of a cyclical nature - witness the resurgence of vampire movies demonstrated by the popularity of the Twilight franchise and TV shows like True Blood.
Zombies rose from the dead with films like 28 Days Later, Shaun of the Dead and TV show The Walking Dead. The popularity of eastern cinema and films like Ring also continue to grow.
But the boom of "torture porn" like Hostel and the hugely successful Saw franchise has led to recent questionable remakes of rape revenge films like I Spit on Your Grave and Wes Craven's Last House on the Left - which feature horrific violence directed towards central female characters.
Booth admits, as a female fan of horror, those films make her argument difficult,"I can't say I'm against showing rape in a film, it depends how it's done.
"If it's done in a titillating way then it's wrong and disgusting but if shown in a grim way like it is, then surely that's ok, stuff that happens in the real world is far worse."
UK writer and director Kerry Anne Mullaney's career hit the ground running as her 2009 film The Dead Outside was nominated for several of Bafta Scotland's New Talent awards including best new work.
"I don't think enough is being done to help women film-makers. But I don't think the problem is at short film level, it's with features that it's most prevalent," says Mullaney - who produced the film independently through her own company Mothcatcher.
"Because of the current financial situation, people are scared that their film won't make money so they're not going to take risks or, from my experience in horror, they will be very aware of their target market," she continues.
"With horror, they are very interested in grabbing that young male audience, so when it comes to directing, they'll think maybe a young guy will connect more with that audience."
And Mullaney - who admits she hasn't come into contact with many aspiring female horror directors - stresses that women could be doing more to help themselves.
"Film-making is risky, sometimes it's not the most pleasant job but if women don't push themselves forward then no-one else is going to.
"It's easy to take a back seat. In some ways I was lucky but you do have to have a bit of an ego."
Bird's Eye View runs from 8-17 March.