John Prescott to read Radio 4's shipping forecast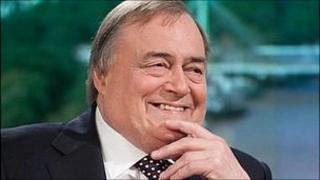 Former Deputy Prime Minister Lord Prescott is to read BBC Radio 4's shipping forecast for Comic Relief.
Normally the 0520 forecast is read by a Met Office forecaster and the others are read by a BBC announcer, but early on 19 March former seaman Lord Prescott will step in.
The bulletin will be recorded shortly before transmission.
"It's a real honour to be given the chance to read it and even better that it's for Red Nose Day," he said.
As a young man, Lord Prescott joined the Merchant Navy, where he worked as a ship's steward during the last days of the great ocean liners.
He said: "I've always been fascinated by the shipping forecast ever since I was a waiter on the liners.
"I used to sit in my bunk listening to it on the wireless. It has such a metronomic quality, like the rhythm of the sea. It feels like a poem."
His guest slot on the bulletin - which will hit the airwaves while Comic Relief's Red Nose Day broadcast is on BBC One - was offered to him after he made a joke on Twitter.
BBC continuity announcer Alice Arnold, who is one of many who read the shipping forecast, spotted his remark on the micro-blogging site.
"I saw a tweet from John saying that he was doing an interview for Radio 4's The World Tonight show and he might as well stay on to do the shipping forecast," she said.
"As I was reading it that night I tweeted he was welcome to do it so I could go home early. He then started tweeting the shipping forecast to me."
Lord Prescott will read the main part of the bulletin, which gives the forecast for the 31 sea areas, in a clockwise pattern.
The Radio 4 announcer will then take over to give the inshore waters and coastal stations reports.