TV viewing time 'underestimated'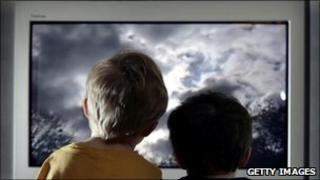 The average adult watches TV for an hour longer per day than they think, a survey for TV Licensing suggests.
Industry figures suggest people watch more than 30 hours of TV a week but the 2,066 adults in the online survey said they watched an average of less than 20 hours of TV a week in January.
The report also said more than 9.5 million TV sets were sold in the UK in 2010 - double the number in 2002.
And it says 72% of people ate at least one meal in front of the TV each day.
The ICM poll, for TV Licensing, also suggests that the average number of of TV sets in each home has risen in the past 10 years from 1.9 to 2.4.
It said viewers of all ages watched an average of more than 28 hours a week last year compared with 25 hours in 2001.
Some 89% of people watch most of their TV in their living room and only 3% of households do not have a television, it adds.
TV sets are also getting larger, with two million sets with screens of 40 inches or larger were sold in 2010, compared with fewer than 600,000 in 2006.
Iain Logie Baird, grandson of the inventor of the first television set John Logie Baird and curator at the National Media Museum in Bradford, said there was "no question" that "television is playing a more central role in our lives than ever".