World Book Night launched with million book giveaway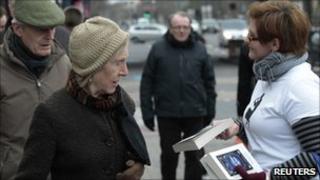 One million books, including works by Alan Bennett and John le Carre, have been given away in the UK and Ireland to mark the inaugural World Book Night.
They have been distributed at venues including homeless centres, pubs and hospitals in a bid to boost reading.
Some 20,000 people were asked to pick their favourite from 25 titles and were then given 48 copies to pass on to friends with their recommendation.
BBC Two is screening an evening of special programmes to mark the event.
Organiser Jamie Byng said it had been tough to come up with a shortlist of just 25 books, chosen by a committee of booksellers, librarians and broadcasters.
"We wanted to created a really balanced list that had things on it that would appeal to everyone," he told the BBC.
The idea has had widespread support from authors, although some independent booksellers have raised concerns the event could damage future sales.
Writer Philip Pullman, whose book Northern Lights is among those being given away, told the BBC he was "thrilled" by the event.
"It's a wonderful idea," he said. "It's a very original and yet it seems so obvious. Give books to people and they enjoy them and go and buy more books."
Asked which book he would particularly recommend, he said the Reluctant Fundamentalist by Mohsin Hamid.
"It's a wonderful book. Everybody should read that."
The BBC Two schedule includes three Culture Show Specials and a premiere of BBC Films' adaptation of Brideshead Revisited.
Live broadcasts from World Book Night events in Glasgow, Manchester and London will be broadcast in between the TV programmes.
Library closures
On Friday some of the most celebrated artists from stage, screen, literature and art took part in a launch event compered by Graham Norton in London's Trafalgar Square.
Margaret Atwood, Alan Bennett and Nick Cave were just some of the names that participated.
Talking Heads writer Bennett drew applause from the crowd when he criticised library closures, calling it tantamount to child abuse, according to the BBC's art correspondent David Sillito
The author said that as a child he had been taken to libraries when he had not had books himself.
Author Edna O'Brien, who also gave a reading to the thousands who gathered there, said it had felt "like the big time".
"Musicians draw great crowds, but usually authors don't," she said, adding she thought the event would "revive interest in reading".
She warned: "If young people stopped reading banality would spread like a plague."