Nelly Furtado to give up Gaddafi concert fee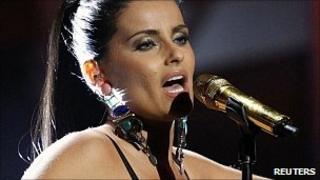 Singer Nelly Furtado has said that she will give away $1 million (£615,000) she was paid to perform for the family of Libyan leader Muammar Gaddafi.
The star said on Twitter she had given a private 45-minute show for Gaddafi's "clan" in 2007 at a hotel in Italy.
The 32-year-old did not say which charity she would donate the money to.
Meanwhile, Beyonce has revealed money she earned from a 2009 gig was donated to charity when it emerged the promoter was linked to the Gaddafi family.
In a statement the star's publicist said: "All monies paid to Beyonce for her performance at a private party at Nikki Beach, St Barts on New Year's Eve 2009, including the commissions paid to her booking agency, were donated to the earthquake relief efforts in Haiti, over a year ago."
Once it became known the third party promoter was linked to the Gaddafi family, the statement went on, "the decision was made to put that payment to a good cause".
Another artist, US singer Usher, is reportedly facing music industry calls to surrender fees earned from performing for Gaddafi's family.
According to Rolling Stone, the singer received an undisclosed sum for performing at the same party as Beyonce Knowles in 2009.
Mariah Carey, the magazine went on, accepted $1m to perform for Gaddafi's son Muatassim in 2008, while rapper 50 Cent gave a show for him at the 2005 Venice film festival.
On Thursday, Carey said she had been "naive and unaware of who I was booked to perform for".
"I feel horrible and embarrassed to have participated in this mess," she said in a statement. "This is a lesson for all artists to learn from."
Managers for Usher and 50 Cent have so far declined to comment.
Colonel Gaddafi is facing international condemnation for using violence to quell a popular uprising in Libya.