John Galliano sacked by fashion house Dior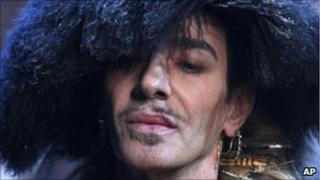 British fashion designer John Galliano has been sacked by fashion house Dior following alleged anti-Semitic comments he made last week.
Dior said it had decided to fire him after seeing a video clip allegedly showing Galliano telling two women in a Paris cafe: "I love Hitler."
"I very firmly condemn what was said by John Galliano," said Dior's chief executive Sidney Toledano.
A lawyer for the 50-year-old designer said he denied the allegations.
Toledano said Galliano's alleged comments "totally contradict the values which have always been defended by Christian Dior."
Earlier on Tuesday, Oscar-winning actress Natalie Portman said she was "disgusted" at fashion designer John Galliano's alleged anti-Semitic remarks in a video.
"I am deeply shocked and disgusted by the video of John Galliano's comments that surfaced today," said Portman, who won the best actress Oscar on Sunday.
It followed the footage posted online allegedly showing Galliano telling a Paris cafe patron: "People like you would be dead today - your mothers, your forefathers would be gassed."
Galliano and Portman have both worked for fashion label Dior.
Portman is the face of Miss Dior Cherie perfume and has often been seen wearing Dior at red carpet events.
But at the Academy Awards on Sunday, she chose to wear a dress designed by Black Swan design label, Rodarte.
"In light of this video, and as an individual who is proud to be Jewish, I will not be associated with Mr Galliano in any way," Portman said in her statement.
"I hope at the very least, these terrible comments remind us to reflect and act upon combating these still-existing prejudices that are the opposite of all that is beautiful," she added.
Police briefly detained the designer on Thursday night after a couple accused him of making anti-Semitic remarks. He also allegedly traded slaps with them.
Galliano's dismissal comes on the first day of Paris fashion week - his Dior show is due to run on Friday although it is not yet clear if it will now go ahead.
UK Vogue editor Alexandra Shulman said on the fashion magazine's website: "I think Galliano made a terrible mistake and such offensive behaviour could not be ignored.
"It is all the same true that he has a huge talent and has contributed enormously to the resurrection of the house of Dior. Who can predict what the future will bring?"