James Franco and Anne Hathaway fail to find chemistry
By Ben Sutherland
BBC News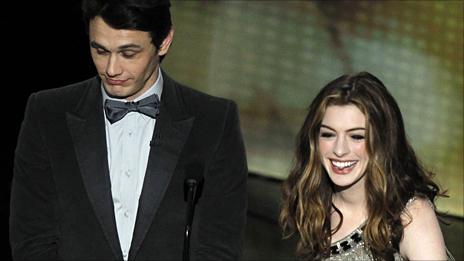 The hosts for the 2011 Oscars, James Franco and Anne Hathaway, had a brief - to bring in the young viewers without alienating the audience in the Kodak Theatre. How did they do?
During the course of the night, Franco, 32, would become the first host to Tweet live from the Oscars stage, while Hathaway, 28, became the youngest host in the history of the awards.
Unfortunately, the pair failed to find the chemistry that would lead to their partnership being remembered as a success - or indeed to be remembered at all.
At the heart of the problem was the lack of spark between the two.
He came across as disinterested and she appeared to be over-excited.
While both of them have starred in a number of comedies, they struggled with their comic timing.
But they were not helped by the bland nature of the material.
Following the mixed reaction to British comic Ricky Gervais' edgy turn as Golden Globes host earlier this year, the pair avoided saying anything critical at all.
Instead, they riffed on social networking and the things the producers deemed youth-friendly.
Hathaway set up some slightly awkward jokes about Toy Story 3 being a lesbian movie.
There was also an odd moment when she declared: "It's the young and hip Oscars," after veteran actor Kirk Douglas left the stage. It seemed a little crass in light of the genuine warmth there had been for the acting legend.
Things had got going nicely with a tried-and-tested video routine - perfected by Billy Crystal in past shows - in which the pair were inserted into films in the running for Best Picture.
This year they took inspiration from Inception, and were inserted into the head of last year's host Alec Baldwin, with Morgan Freeman providing the voiceover. It wasn't a brilliantly original idea, but it was well done and witty.
Once the live show was under way, Franco in particular failed to match such heights again.
Perhaps the laid-back calm that leads an actor to be dubbed the "coolest man of the year" was not the quality needed to be a successful host.
Franco simply looked bored, as if hosting was a tedious necessity, like weeding the garden or doing the washing up.
There were good moments, such as when came on stage dressed as Marylin Monroe and quipped: "The weird part is, I just got a text message from Charlie Sheen."
But too often his attitude was too easily mistaken for lack of interest.
Suspecting that he was about to lose to Colin Firth in the best actor catagory might have affected his mood.
Fortunately for Franco and Hathaway, their performances will not be remembered - thanks to best supporting actress Melissa Leo.
The Fighter star relegated them to supporting roles by becoming the first person to use the f-word during an Oscars acceptance speech.
Related Internet Links
The BBC is not responsible for the content of external sites.