Why is law such a fertile ground for drama?
By Tim Masters
Entertainment correspondent, BBC News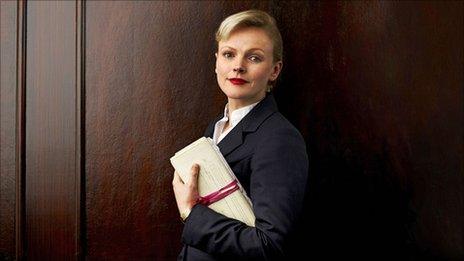 As a former barrister, writer Peter Moffat has witnessed for real the drama of a courtroom. He returns to his legal roots in new BBC drama Silk.
Peter Moffat surveys his cramped surroundings and shivers. "It gives me the absolute willies to be back here."
Our interview is taking place in the cell of a former magistrates' court in central London.
The building has been transformed into a swanky hotel. But the old prisoner cells, adjacent to the bar, are largely intact - even if the latrine in the corner does now contain ornamental pebbles.
"I was a barrister up until about 10 years ago," says Moffat. "Some of my earliest experiences are in this court. I remember speaking to clients in these cells.
"As a 'baby barrister', you are thrown in at the deep end and have got nothing in terms of a brief. You might have one sheet of paper with a name, and the court time. It's absolutely terrifying."
It is this world that Moffat portrays in Silk, in which Maxine Peake and Rupert Penry-Jones play barristers applying for "silk".
Moffat admits it was difficult trying to become a writer while still mired in legal paperwork.
"I remember being given a three-month fraud trial and my feelings should have been, 'Great - this is a nice big case.'
"But actually my thought was, 'Damn, I'm not going to be able to write for three months.' So I knew something had to give."
Having quit the legal profession, Moffat now has several legal dramas under his belt.
These include Channel 4's North Square, in which Penry-Jones starred, and Criminal Justice, in which Peake appeared.
"We all felt at the end of North Square that there were more stories to tell," says Moffat, adding that it is "lovely to be back working with Rupert".
One writing challenge that arose in Silk came when Penry-Jones damaged his knee playing football just weeks before filming - an accident that called for some last-minute rewrites.
Penry-Jones recalls: "I was in training for Soccer Aid, and in the last minute of the last day of training I fractured my knee. I was on crutches for the first two episodes."
The 40-year-old actor did not need to do much research ahead of Silk, due to his experience on North Square.
"I'd been to the Old Bailey and sat through many court cases. It's mainly the workings of the chambers I found so interesting.
"It's like an acting agency - the clerk is the agent and the barristers are the actors."
Moffat has his own theory as to why the legal world is such a fertile ground for drama. It is because "everybody's under pressure," he says.
"I wanted to write about how often it is in chambers that you get a case very late in the day and how much pressure that puts on you. The stakes are very high.
"It's great drama because at the end there's always a big moment. There's a guilty or a not guilty.
"There are stories within stories in a court case. A piece of cross-examination has its own natural structure - a beginning, middle and end. It's natural drama territory."
With his lead character, defence barrister Martha Costello, Moffat wanted to avoid the female lawyer so often portrayed by Hollywood - successful yet single, and unfulfilled.
"I don't think it's just Hollywood," he says. "Apart from Helen Mirren, you struggle to come up with a single character-led drama led by a woman.
"And not have that woman have as her only big issues whether or not she's going to be with the man she quite fancies, and whether or not a baby might get in the way of her professional existence.
"It's great to have Maxine Peake," he continues. "She's really real and not obviously barristerial.
"I can think of a number of other actors who could step in and do those Kavanagh-type role really well. I wanted somebody with a bit more normal life about them."
Silk begins on 22 February on BBC One at 2100 GMT.