Taylor's private life in spotlight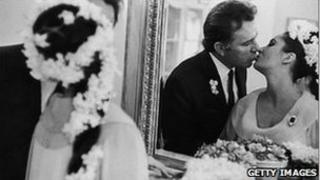 Dame Elizabeth Taylor, who has died aged 79, was just as famous for her colourful personal life as an illustrious film career that earned her two Oscars.
Her eight marriages - to seven husbands - plus reports of her substance abuse and illnesses hit many headlines.
She is also famous for dedicating the later part of her life to fundraising for charity, raising awareness of Aids and supporting third world causes.
Dame Elizabeth hit the big screen with impact at the tender age of 12, becoming the darling of the movie world.
Just six years later she wed her first husband, Conrad Hilton Jr, in 1950. She was divorced from the heir of the famous hotel chain after nine months.
Food fight
A year later in 1952, she married British actor Michael Wilding. It was the second marriage for both of them and lasted five years.
Just a month after their divorce in 1957, she was walking down the aisle again with husband number three - film and theatre producer Michael Todd.
Todd threw a party for Taylor for the one-year anniversary of his film Around the World in 80 Days.
The event at Madison Square Garden attracted 18,000 people and was filmed for a news special.
But it eventually descended into a massive food fight and was deemed a disastrous publicity stunt.
Todd was said to be the love of Taylor's life but he died in a plane crash in New Mexico in 1958, just a year after they married. The name of the plane was The Lucky Liz.
Her next marriage caused a scandal after she was accused of stealing Eddie Fisher from wife Debbie Reynolds and their child, future Star Wars actress Carrie Fisher.
Taylor and Fisher wed in 1959, the same month he was divorced from Reynolds.
It was during this time that Dame Elizabeth won her first Oscar for Butterfield 8.
She also had her first bout of serious illness, requiring a tracheotomy after suffering from pneumonia, and there were fears she was close to death.
But after she regained her strength, she fell for her co-star Richard Burton on the set of the big-budget movie Cleopatra. They began what was seen as one of Hollywood's great romances.
They married in 1964 and went on to star in 12 films together, including The Comedians and The VIPs.
But it was Who's Afraid of Virginia Woolf? that is considered the best of their on-screen partnerships.
Rehab
In 1969 Burton shelled out more than $1m for a 69-carat diamond ring, known as the Burton-Cartier and later the Burton-Taylor Diamond.
The actress later sold off the ring to fund a hospital in Botswana.
Their marriage ended after 10 years. But such was the intensity of their relationship they wed again a year later, before realising they had made a mistake. They divorced again in 1976.
Dame Elizabeth married twice more - to Senator John W Warner and then to construction worker Larry Fortensky, whom she had met in rehab while being treated for substance abuse.
Fortensky, who was 20 years her junior, was to be Taylor's final husband.
In 1997, a year after their divorce, Dame Elizabeth suffered a benign brain tumour and underwent surgery to remove it.
The actress was a spirited campaigner for Aids awareness, being drawn to the cause by the death of her friend Rock Hudson in 1985.
She had a number of close celebrity friends including Liza Minnelli, for whom she performed matron of honour duties at her wedding; the late Michael Jackson, whom she called the "most normal person I know"; and Montgomery Clift, whom she helped save from a car accident.
Ill-health prevented her from giving a character testimony at Jackson's child abuse trial in 2005.
She threw herself into charity work in later years and was honoured with the 1993 Jean Hersholt Humanitarian Award by the Academy of Motion Picture Arts and Sciences.
Dame Elizabeth was made a British dame in the Queen's New Year's Honour's list in 1999 and officially retired from acting in 2003.
Illness blighted her final years, scoliosis that twisted her spine and congestive heart failure limiting her public appearances.