Elizabeth Taylor: A filmography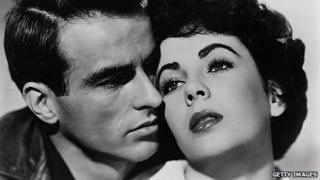 Elizabeth Taylor, who has died aged 79, built her fame upon a movie career that lasted more than half a century.
Playing everything from horse racer to sexually frustrated wife to the queen of Egypt, Taylor won a string of acting awards including two Oscars.
These came for Butterfield 8 in 1961 and for Who's Afraid of Virginia Woolf? six years later. She received the Academy's Jean Hersholt Humanitarian award in 1993.
By the time Taylor retired from acting in 2003, she had successfully made the transition from sprightly child actress to respected Hollywood veteran.
CHILD STAR
Elizabeth Taylor won her first film contract aged 10, after taking a Universal Pictures screen test while living in Los Angeles.
She made her screen debut in comedy There's One Born Every Minute in 1942, playing the daughter of a pudding inventor.
MGM then gave her the role of Priscilla, the grand-daughter of an English lord, in hit movie Lassie Come Home.
Its success led to small parts in The White Cliffs of Dover and Jane Eyre, before Taylor's breakthrough role in 1944's National Velvet.
Co-starring with Mickey Rooney, Taylor played budding horse rider Velvet Brown and the heart-warming movie became a smash hit, taking more than $4m (£2.5m) at the US box office.
Now MGM's top child star, Taylor appeared in a series of solid but unremarkable films in the late 1940s, including the 1946 film Courage of Lassie.
SEX SYMBOL
Unlike many child stars, Elizabeth Taylor made a smooth transition to mature roles.
Playing an invalid in 1947's Cynthia, she received her first screen kiss from actor Jimmy Lydon, with whom she starred again in Life With Father.
However, Taylor's first fully-fledged adult roles came in 1950, when she played the wife of a Soviet spy in The Conspirator and an amateur psychiatrist in The Big Hangover.
She later said that the first film in which she was "asked to do any acting" was 1951's A Place in the Sun, in which she played a rich girl whose love for George Eastman, played by Montgomery Clift, had tragic consequences.
Taylor's busiest year was in 1954, with roles in Rhapsody, Beau Brummell, The Last Time I Saw Paris and Elephant Walk. Aged 22, Taylor was already considered one of the world's great beauties.
In 1955 she co-starred with the equally-admired James Dean in Texas epic Giant. Dean never witnessed the movie's success, however, as he died in a car accident soon after completing the film.
OSCAR WINNER
Taylor earned her first Oscar nomination for her portrayal of Southern belle Susanna Drake in 1957's Raintree County, an overblown epic that failed to secure her an Oscar.
In Cat On a Hot Tin Roof she emerged as the quintessential Tennessee Williams heroine, smouldering opposite Paul Newman in the role of Maggie the Cat.
Taylor described the film as "a big high point" in her career, but she failed to win the best actress Oscar for which she was nominated.
She also missed out on an Oscar for 1959's Suddenly, Last Summer, in which she starred opposite Katharine Hepburn.
It was her portrayal of call girl Gloria Wandrous in the 1960 movie Butterfield 8 that finally secured Taylor the best actress Oscar, on her fourth attempt.
After a three-year break, she starred in the four-hour epic Cleopatra. One of the most expensive productions at that time, it earned Taylor a reported $1m (£620,000) salary.
She fell in love with her co-star and future husband Richard Burton, with whom she would appear again in The VIPs, The Sandpiper and Who's Afraid of Virginia Woolf?
This fraught 1966 drama saw Taylor gain weight to look suitably unattractive as the "fat, foul-mouthed" Martha, and earned her a second best actress Oscar.
LATER CAREER
While Taylor remained prolific and popular, her film roles never recaptured the intensity of Who's Afraid of Virginia Woolf?
Subsequent pictures with Burton - Doctor Faustus, The Comedians, Boom!, Under Milk Wood and Hammersmith is Out - did not match the success of their earlier joint efforts.
The box office takings of Taylor's films without Burton hardly seemed to justify her fees, which reached a peak of $1.25m (£777,000) per movie in 1970.
Yet Taylor won critical acclaim for her continued willingness to play unglamorous parts, such as in the 1972 love triangle drama X, Y and Zee.
After starring as Desiree in 1977's A Little Night Music, based on Stephen Sondheim's stage musical, Taylor only made sporadic film appearances.
After cameo parts in US TV series such as General Hospital and All My Children, Taylor's final movie role was in the 1994 live action version of The Flintstones, playing mother-in-law Pearl Slaghoople.
In 2003 Taylor declared that she had given up on showbusiness to dedicate herself to Aids activism, ending an on-screen life that had brought many highlights among more than 70 roles.
But she returned to the Los Angeles stage in 2007 to give a one-off performance in AR Gurney's Love Letters, to benefit her Aids charity.