Cameras allowed at Michael Jackson trial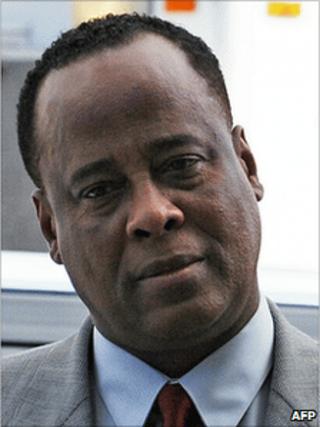 The trial of Michael Jackson's doctor next month can be televised as long as cameras do not interfere with proceedings, a judge has ruled.
Los Angeles Superior Court judge Michael Pastor has also moved the date of Dr Conrad Murray's trial forward by four days to 24 March.
Dr Murray is accused of involuntary manslaughter and faces up to four years in prison if convicted.
The trial is expected to last about six weeks.
Pastor said he wanted the "absolute least intrusive placement" of a TV camera in the courtroom and asked for detailed proposals from local news teams.
He has blocked cameras from broadcasting jury selection, which will take place on the first day of the trial.
At a preliminary hearing last month, witnesses testified that Dr Murray tried to hide the fact that he had given Jackson propofol, a powerful surgical anaesthetic typically administered in a clinical setting.
And a police detective testified that Dr Murray told him he had given Jackson propofol after administering milder drugs throughout the night to help the singer sleep.
His lawyers say prosecutors have failed to prove their assertion that Dr Murray caused Jackson's death.
They argue that Jackson's poor health contributed to his death.