Roommate thriller tops US box office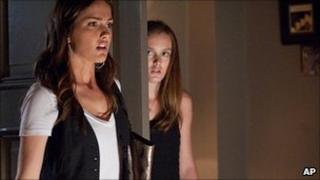 Low-budget thriller The Roommate was the top film at the North American box office over the weekend, though takings were hit by the Super Bowl.
The film, starring Gossip Girl actress Leighton Meester as a college student obsessed with her roommate, took $15.6m (£9.6m) between Friday and Sunday.
3D underwater adventure Sanctum opened at second place with $9.2m (£5.7m).
Box office takings were generally down as cinemagoers chose to stay in for the Super Bowl, America's biggest TV event.
Females under the age of 21 - the demographic least likely to watch the game in Texas - accounted for two-thirds of The Roommate's audience, according to its distributor.
Though panned by critics, the thriller nearly made back its $16m (£9.9m) production budget in its opening weekend.
No Strings Attached, a romantic comedy starring Natalie Portman and Ashton Kutcher, fell to three, while Oscars front-runner The King's Speech climbed one place at four.
Seth Rogen action comedy The Green Hornet completed the top five, with last week's number one film - Anthony Hopkins thriller The Rite - dropping down to six.
This week's Top 12 films grossed $75m (£46.3m) in all - down 18% on last weekend, according to box office analysts Hollywood.com.
The figures are also down 24% on the same weekend last year, when romantic drama Dear John topped the chart ahead of James Cameron's Avatar.