'Why our library must survive'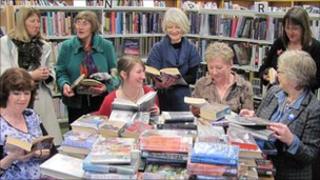 Library lovers up and down the UK have gathered at their local branches to campaign against a series of planned closures.
The fairy cakes were on the counter at Bawtry library, near Doncaster, and the members were weighed down as they discreetly registered their protest by borrowing their full quota of books.
As rallies go, the gathering in Bawtry was a civilised one.
But, as the children got on with colouring at one end of the village library, a brutalist bunker that is typical of many across the country, the quiet chatter among the grown-ups was laced with seething anger.
This is one of 14 branches in Doncaster that were earmarked for closure at a council meeting on Friday night, and the issue has stirred the kinds of passions that have rarely been seen in these traditionally sedate centres of literature and learning.
Three days ago, Peter Davies, the Mayor of Doncaster, walked out of a stormy meeting after heated exchanges about the subject with residents.
His position made him the subject of scathing remarks as friends and neighbours gathered on Saturday, and the issue has become a hot political potato.
"I'm a member of the library," says Glyn Morgan, who moved to the village 14 years ago. "I'm now retired and I use the library a lot - for reading books, I've had DVDs out and I've also done research into hobbies.
"Bawtry library is really the centre of our little town. It's the only facility that we've got and it's so important.
"I've never been interested in politics or what the council does, but this has really affected me."
Councils like Doncaster argue that their funding will be cut by central government by an average of 26% across the country over the next four years, and something has got to give.
Would it be better to close a library or an old people's home, a service for the disabled or mental health provision?
Most conversations in Bawtry included phrases like: "I know the council has to make cuts but..." Some say they could cut hours instead, or close only the most underused branches.
"Nobody's unrealistic, we know cuts have to be made," says children's author Helena Pielichaty, who gave a reading in the library.
"They seem to be going for libraries, and all the arts, as a soft target. Life isn't worth living without those things, and those are the things I pay my taxes for."
Everybody in the library has a story about the role libraries have played in their lives.
Ms Pielichaty, from a mining family in Garforth, near Leeds, got her first adult library card aged 11 because she had run out of children's books to read.
"Maybe we are middle-class now but we weren't, and we've been able to improve our social status by using libraries and education and the love of books, and it shouldn't be just for those people that can afford them," she says.
Teenage fiction author Kate Le Vann, from nearby Sprotbrough, frequented public libraries as a student and took one of her children to Bawtry for Saturday's event.
"As an author, a lot of the money I make comes from libraries and a lot of my readers get recommended my books by librarians," she says.
"Librarians are really interested in books and have an incredible knowledge of books."
A statement was read from Gervase Phinn, writer of The Dales series, describing how libraries are "at the very centre of community" and should be preserved "at all costs".
And as the number of fairy cakes dwindled, the campaign was boosted further by a visit from soprano Lesley Garrett, who has a home in nearby Epworth.
Her grandfather was too ill to work down the mine so learned to play the piano instead - using a book from a library, she says.
He went on to set up an orchestra - using sheet music from libraries - and instilled a love of classical music in his granddaughter.
"I wouldn't be here today doing what I do without libraries," she says. "I learnt to read in a library. My junior school was next door to a library and every day I was in that library.
"My mother will be completely bereft without her local library. She's in her 80s now and she's an avid reader.
"The idea that everyone in this country can't have ready access to free literature is completely abhorrent. Libraries are the cornerstone of our society."
But libraries are not simply about culture, and are keen to promote other services, such as computing facilities.
Yvonne and Robin Levitt lost their jobs when their printing business collapsed three months ago.
"I'm surviving on £62 a week," Mrs Levitt says. "Part of your compliance with receiving Jobseekers' Allowance is that you look for work every day."
But she can no longer afford broadband, to run a car or to pay the bus fare to travel the 10 miles to Doncaster, she explains.
"Here I can use the internet and I can meet my job mate, who comes out from Doncaster. We sit at this table and he helps me look for a job.
"It's been a lifeline for me. If they take it away, which they are going to do, then I don't know what I'm going to do. That's why this place has got to stay open."