Authors join day of protest at library cuts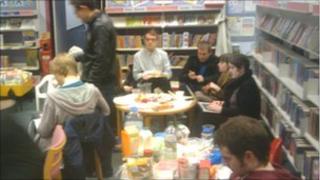 Protesters have held "read-ins" and storytelling sessions at dozens of libraries across the UK to campaign against planned branch closures.
At one library in south London the event has turned into an all-night sit-in involving about 35 protesters.
Authors Philip Pullman and Mark Haddon were among those who took part in events elsewhere.
Some councils have said keeping libraries open would put services for vulnerable and elderly people at risk.
More than 450 libraries and mobile services across the country are currently threatened with closure.
At New Cross Library, in south-east London, protesters taking part in an earlier "read-in" resolved to occupy the library overnight. Three security guards have been brought in to stay in the library with the group.
Protester James Holland, of Save New Cross Library, told the BBC people had brought meals for the protesters, who were "sitting around playing Monopoly and Connect 4 and doing plenty of reading."
"I think with this occupation we are going to take the libraries campaign - and the anti-cuts campaign in general - to a whole new level. We are just not going to put up with these cuts," he said.
Other events during Saturday included a rally outside Bolton's central library and a flashmob book reading at Cambridge Central Library.
Musician Billy Bragg sang and delivered a speech in Dorset, where library users attempted to take out the maximum number of books to empty shelves.
Children's author John Dougherty was among those attempting a mini-marathon "I love libraries" tour through Gloucestershire.
Glasgow-based children's author Julia Donaldson delivered a statement of protest to the Scottish Parliament in Edinburgh.
'Narrowing of horizons'
Comic writer Gervase Phinn sent a statement to Bawtry library in South Yorkshire, describing books as "the architecture of a civilised society".
He added: "Reading is the very protein of growth in learning. We must preserve our libraries."
His Dark Materials author Philip Pullman has been particularly vocal over proposals to close 20 of Oxfordshire County Council's 43 libraries.
He said the impact would not be easily measured. He said: "It's a kind of inward loss, a darkening of things, a narrowing of horizons that will gradually make us a less informed, less intelligent, less aware, less useful, less imaginative, less kindly people than we might have been."
But in a letter to the Guardian, Keith Mitchell, leader of Oxfordshire County Council, said the authors' calls to exempt libraries from cuts was "a call to heap more cuts on care of the elderly, learning disabled and those with mental health problems".
"Have they thought through the impact of their messianic message about literature on the most vulnerable in our society?"
Oxfordshire County Council defended its proposed cuts to libraries, saying it, like other councils, had a requirement to make "significant financial savings" to its budgets.
'Totally unacceptable'
Doncaster is planning to axe 14 out of 26 branches, including Bawtry. Doncaster's mayor, Peter Davies, said he regretted having to cut funding to libraries, but said he was morally obliged to continue other vital services.
"Something that affects people's lives on a daily basis or turns them upside down completely, as you would if you closed an old folks' home, is totally unacceptable to me.
"Libraries are used by about 16% of Doncaster people and many of them not on a regular basis - it is unfortunate."
The day of campaigning came as the National Literacy Trust published research showing children who use their local library are twice as likely to be above-average readers.
Jonathan Douglas, director of the National Literacy Trust, said: "In the UK today one in six people struggle to read, write and communicate, which can affect their health, confidence and employability.
"We are supporting Save Our Libraries Day and encouraging everyone to get involved, and show how passionately they feel about the importance of literacy and libraries."