Secret sex poems 'key to 18th Century book's success'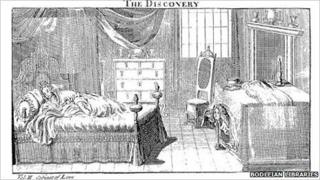 The success of two best-selling volumes of poetry published in the 18th Century was down to pornographic poems hidden in the book, an academic has suggested.
Oxford University's Dr Claudine van Hensbergen came across The Cabinet of Love in The Works of the Earls of Rochester and Roscommon.
The poems include verses on sex toys and condoms.
It is thought the printer Edmund Curll inserted the collection into the books in 1714.
"Word of it must have spread, as in the later decades of the century The Cabinet was properly integrated into the volume," Dr van Hensbergen said.
Although the existence of The Cabinet is already known, it is the first time the success of The Works has been attributed to the bawdy poems.
One ode tells of the public burning of sex toys after a ban of imported French goods, while The Discovery is about a man hiding in a woman's room to watch her masturbate in bed.
Another poem, The Delights of Venus, features a woman give a friend an explicit account of the joys of sex.
Dr van Hensbergen found the collection while cataloguing an online index of poetic miscellanies for Oxford University.
"The Cabinet is unusual because it shows us that people read pornographic writing directly alongside the verse of major poets," she said.
"This raises interesting questions about what counts as literature and where the boundaries between high and low culture lie."
It is thought the circulation of The Cabinet alongside the works of the Earl of Rochester helped cement his scandalous reputation.
In 2004 film The Libertine, the notorious Earl - born John Wilmot in 1647 - was played by Johnny Depp.