Sir Mick Jagger to perform at Grammy awards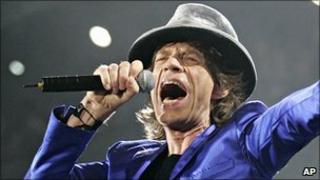 Sir Mick Jagger will perform at the Grammy awards in Los Angeles this month, organisers have announced.
The 67-year-old rocker will sing as part of a tribute to late soul great Solomon Burke, who opened a number of concerts for the Rolling Stones.
Sir Mick will perform with Raphael Saadiq at the 13 February event.
The Stones performed on the Grammys via videolink from London after Eric Clapton presented them with a lifetime achievement award in 1986.
The Grammys are presented annually by the National Academy of Recording Arts and Sciences.
Its president and CEO Neil Portnow said organisers were "thrilled, delighted, excited and very much looking forward" to Sir Mick's appearance.
"It's extraordinary to many of us that... he has never performed on the Grammy stage," he said.
Other acts performing at the 53rd Grammys show include Eminem, Usher, Katy Perry, Bruno Mars, Rihanna and British band Muse.
Burke, who died in October aged 70, wrote the classic song Everybody Needs Somebody to Love.