Barbara Hepworth sculptures donated to new gallery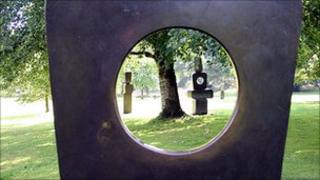 A £35m art gallery celebrating sculptor Dame Barbara Hepworth will open in Yorkshire on 21 May.
The Hepworth Wakefield will be the largest purpose-built art gallery to open in the UK since the launch of Tate St Ives in Cornwall in 1993.
It will feature 44 rarely-seen working models donated by Dame Barbara's family plus works by Henry Moore and Turner.
Its 10 galleries will also host visiting exhibitions by artists including Eva Rothschild.
Dame Barbara was born and grew up in the West Yorkshire city. She went to the Leeds School of Art with Moore. The pair, who remained lifelong friends, were pioneers of abstract sculpture in the UK.
The artist became known for her pierced shapes, and her most famous works include Single Form, which is in the United Nations Plaza in New York, and Winged Figure, on the side of the John Lewis department store in London.
She was made a Dame in 1965 and died in a fire at her studio in St Ives 10 years later at the age of 72.
The gallery has been designed by architect David Chipperfield, and is expected to attract 150,000 visitors per year.
Its director Simon Wallis said: "The Hepworth Wakefield is a world class building designed by one of this country's leading architects, and is a fitting home for Wakefield's long-held ambition to be recognised as the birthplace of Barbara Hepworth.
"I believe that, when The Hepworth Wakefield opens in May, it will be seen as a visionary investment in the community and the cultural life of this country."
As well as Hepworth's 44 plaster and aluminium prototypes, the gallery will also include tools and materials from her studio, also donated by her descendants.
Dame Barbara's granddaughter Dr Sophie Bowness said: "We are very pleased to be making this gift through the Art Fund, to secure its future and ensure that it will be accessible to the public in perpetuity.
"The gift is a unique group of Barbara Hepworth's surviving prototypes, the majority in plaster, from which editions of bronzes were cast. It will greatly enhance our understanding of her working methods."
The Tate, the Arts Council and the British Council will loan works by other artists including works by Piet Mondrian, Constantin Brancusi and Alberto Giacometti to the gallery.