Last Tango in Paris actress Maria Schneider dies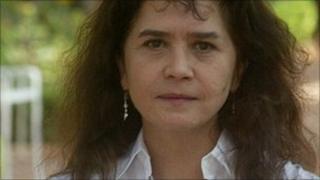 French actress Maria Schneider, best known for playing Marlon Brando's lover in Last Tango in Paris, has died in Paris aged 58 after a long illness.
The actress was 19 when she was cast opposite Brando in Bernardo Bertolucci's controversial 1972 film.
It saw her play a young Parisian who embarks on a sexually charged relationship with his middle-aged American businessman.
The film was banned in several countries due to its explicit content.
Born in 1952 in Paris, Schneider was the daughter of French actor Daniel Gelin.
She began her film career in uncredited roles before being given her first break in 1970 film Madly.
Last Tango in Paris provoked such controversy that the actress resolved never to do nude scenes again.
Yet she was briefly seen naked three years later in Jack Nicholson film The Passenger, albeit in long shot.
Schneider battled drug addiction in the 1970s but went on to star in mostly low-budget European films.
She was last seen on the big screen in 2008 French film Cliente, about a married construction worker who leads a double life as a gigolo.