5 live attracts record 7.1m listeners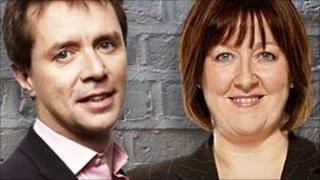 BBC Radio 5 live pulled in a record audience of almost 7.1 million listeners a week at the end of 2010, figures from industry body Rajar show.
From October to December audiences were up by one million on the same period in 2009, thanks in part to the 600,000 new listeners who tuned into 5 live's breakfast show.
National commercial station talkSPORT had a record audience of 3.1 million.
A quarter of all listening is now done through a digital receiver, Rajar said.
Its data showed Radio 5 live breakfast hosts Nicky Campbell and Shelagh Fogarty - due to leave in the spring to present the station's lunchtime show - attracting an audience of 3.2 million a week.
Station controller Adrian Van Klaveren said 5 live's "brilliant figures" showed its audience appreciated coverage on "big stories like the spending review, the Chilean miners [and] the Ashes."
Meanwhile talkSPORT - which has doubled the number of Premier League matches it covers this season - attracted three million listeners a week for the first time.
Programme director Moz Dee said the station had improved its figures by "continuing to build credibility in sports journalism".
Radio 3's audience was up 18% with 2.2 million weekly listeners, while Classic FM added almost 600,000 to record 5.7 million.
BBC Radios 1, 2 and 4 also added listeners year on year.
Radio 1 breakfast show host Chris Moyles pulled in 7.4 million weekly listeners, up from 7.2 million in 2009.
His Radio 2 counterpart Chris Evans - who took over from Sir Terry Wogan in January 2010 - now has an audience of 8.7 million.
That compares very favourably with the 8.1 million weekly listeners who tuned into Sir Terry's show in the last quarter of 2009.
BBC digital station 6 music, recently threatened with closure, saw it hold on to the majority of the audience it gained following its reprieve with figures of 1.1 million.
BBC Asian Network, which still faces closure, has seen its audience grow to 477,000 - up 33% on the previous year.
Magic 105.4 was London's biggest commercial station, its 2.05 million weekly listeners beating Capital FM's 1.96 million.
Elsewhere Kiss 100 pulled in 1.82 million listeners, slightly more than Heart 106.2's 1.77 million.
Rajar's figures showed 20.9 million people a week tuned into digital radio - either via DAB, digital TV or the internet.
That compared with the 17.1 million who did so between October and December 2009.