John Nettles' last Midsomer Murders seen by 7m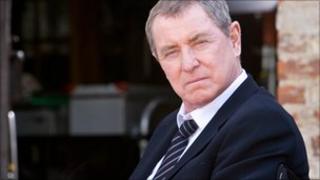 John Nettles's final appearance on ITV1 drama Midsomer Murders was watched by an average of 7.1m viewers - the show's biggest audience since April 2008.
The 67-year-old bowed out of the series on Wednesday after 14 years playing DCI Tom Barnaby.
Nettles, who announced in 2009 he was quitting, will be replaced by Neil Dudgeon in the detective series, based on the novels of Caroline Graham.
The Life of Riley actor will play his character's cousin, DCI John Barnaby.
In his last two-hour episode, viewers saw Tom Barnaby solve one last mystery at a health spa before deciding to retire.
At a birthday celebration with friends, he announced he was going on an "indefinite holiday".
His final line was: "What now? I'm going to have my cake and eat it."
Midsomer Murders was the most watched programme during its time slot, capturing a 23.2% share of audiences according to early figures.
Its nearest rival was BBC One's Waterloo Road, which was seen by an average of 4.1m viewers - an 18.7% share of the audience.
The long-running series has seen Nettles's character solve more than 200 murders.
A string of well-known actors have appeared on the programme, including Orlando Bloom and Imelda Staunton.