Grizzly Adams creator Charles Sellier dies at 67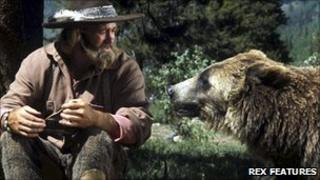 Charles Sellier - creator of the book, film and TV series The Life and Times of Grizzly Adams - has died aged 67.
A spokesman for Sellier's production company said he died unexpectedly at his home in Idaho, but did not specify a cause of death.
Sellier wrote and produced dozens of family-friendly TV movies, many of them with faith-based themes.
He introduced Adams, a man accused of murder who befriends a bear while on the run, in a 1972 novel.
The character, played by Dan Haggerty in a 1974 film and a subsequent TV series, was loosely based on a real 19th Century trapper and bear trainer.
Sellier went on to produce a string of documentary TV films, including In Search of Noah's Ark and Mark Twain's America.
In 1980 he was nominated for an Emmy for his work on children's TV film The Legend of Sleepy Hollow.