Archers role for the Duchess of Cornwall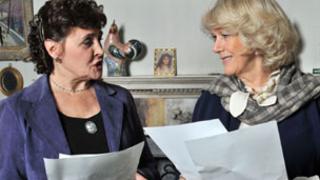 The Duchess of Cornwall is to appear in BBC Radio 4's long-running rural drama The Archers, listeners have heard.
On Wednesday's episode, regular character Caroline Sterling revealed that the Duchess was to pay a visit to the Grey Gables hotel.
Camilla's brief appearance - recorded in early December - will be broadcast on 16 February.
She will feature in the programme in her role as president of the National Osteoporosis Society.
It is not the first time a member of the royal family has appeared on Radio 4's "everyday tale of country folk".
In 1984 the late Princess Margaret appeared in an episode marking the centenary of the NSPCC, of which she was president.
The Archers celebrated 60 years on air on 2 January, an anniversary it marked by killing off one of its characters.
On 16 February Camilla will visit BBC's Birmingham studios to meet members of the Archers cast and attend a reception.