Farrah Fawcett trademark swimsuit donated to museum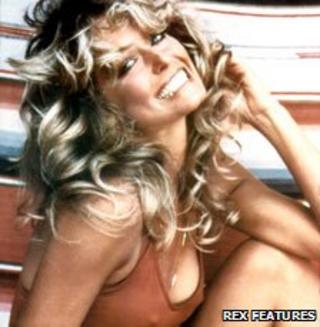 Farrah Fawcett's trademark red swimsuit, which she wore in a popular poster in 1976, is being donated to Washington's Smithsonian museum.
The late star's partner Ryan O'Neal is also handing over copies of scripts for the first season of Charlie's Angels and a 1977 Fawcett doll.
The poolside poster of the actress sold millions of copies.
Screen star Fawcett died in 2009 at the age of 62. She had been suffering from cancer.
Other items O'Neal will also donate to the US institution include a Fawcett swimsuit jigsaw puzzle, a special 1976 edition of TV Guide featuring the actress, and a Farrah Glamour Centre hairstyling toy.
The trademark poster was shot by photographer Bruce McBroom.
At the time Fawcett was aged 29 and was said to have liked wearing the one-piece because it covered a scar she got as a child.