Picasso painting La Lecture up for auction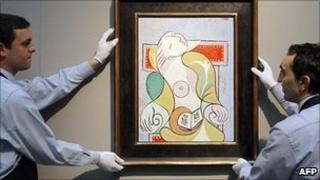 A portrait of the muse who transformed painter Pablo Picasso's life and art is to go under the hammer at Sotheby's in London next week.
La Lecture depicts his secret lover, Marie-Therese Walter, who was 17 when Picasso, then 45, introduced himself as she stepped off a Paris train.
Their relationship was kept secret for many years because of her age and because Picasso was married.
The 1932 painting is expected to fetch between £12m and £18m.
Ms Walter later said she had never heard of the artist when he first approached her saying: "I am Picasso - you and I are going to do great things together."
Until La Lecture was painted, Ms Walter had only appeared in Picasso's works in code with her features often embedded in the background of his paintings.
It was when the picture was exhibited at a Picasso retrospective that the artist's wife, Olga Khokhlova, realised there was another woman in his life and their marriage subsequently broke up.
Ms Walter later had a daughter, Maya, with Picasso.
Ms Walter inspired a number of works including La Reve as well as Nude, Green Leaves and Bust, both painted in 1932.
Other items up for sale at the Sotheby's Impressionist and Modern Art sale on 8 February include paintings by Claude Monet and Lucian Freud.