Neil Sedaka launches Dreamboats song contest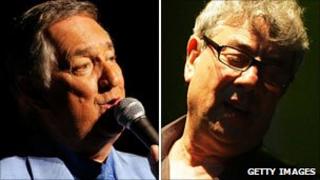 Songwriters Neil Sedaka, Don Black and Graham Gouldman are to judge a contest to find a new rock 'n' roll song to feature in Dreamboats and Petticoats.
10CC's Gouldman, who has also written songs for Busted and The Yardbirds, said: "This is a great opportunity for us to see what talent is out there."
The winning song will feature in the West End show as well as a compilation CD and will be published by Universal.
Entrants, who must be aged 18 and over, have until 31 March to submit songs.
The competition echoes the plot of Dreamboats and Petticoats, which tells the story of a national youth club songwriting search in 1961.
Sedaka, whose career spans 50 years, is best known for recording hits such as Stairway to Heaven and Calendar Girl.
Black has written lyrics for stars including Michael Jackson.