Teachers put school life on stage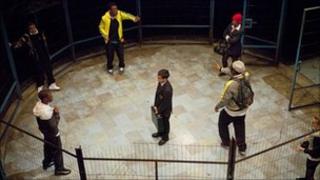 A secondary school teacher has written an award-winning play set in a tough city school - and she is not the only teacher depicting the pressures of the classroom on stage.
Inside the school gates, the teenage mates' moronic banter is gleefully garnished with once-shocking language as the mood swings between exuberant hilarity and off-hand aggression.
The uniforms are hidden by brazen accessories - glowing hair or gregarious clothing or haphazard baseball caps.
School work is a distant afterthought and protecting your friends is more important than telling the truth.
This is the world created by playwright Vivienne Franzmann. She should know - she has taught in secondary schools for the past 12 years.
Her debut play Mogadishu has just received its world premiere at the Royal Exchange Theatre in Manchester and has won acclaim for its vivid depiction of school life and its moral hazards.
"Schools are really relevant places," Franzmann says. "Everyone thinks they understand a school. Everyone's been to school."
The school that Franzmann has created is "a bit of a war zone" - urban, troubled, maybe failing.
It is all based on her front-line experiences and those of fellow teachers - from the students' sparkling dialogue to the horrors of school policy and paperwork.
She is, however, at pains to stress that it is not based on her current school, which she joined after writing the play.
And then there is the central storyline, a false allegation of racial assault and abuse made by a pupil against a teacher - something that has become more common in recent years, Franzmann says.
"I went to dinner with a friend of mine who'd had a false allegation made against her," she explains. "It does happen. I personally know two people.
"Everyone seems to know someone… even yesterday I heard someone in the audience say: 'Oh we must tell someone, whoever, about this because he's still suspended you know.'
"It has enormous repercussions personally and professionally."
Brainless comedy and uncomfortable drama compete and occasionally combine in the play, reflecting the "light and dark" of real school life, Franzmann says.
"Young people are really exuberant. When you walk around a school, people are laughing all the time.
"There are moments that are really bleak in it [the play], but I always wanted it to be light and full of energy on the other side.
"When I watch it, it feels real. It feels truthful to the places I've worked."
Part of that realism has been achieved by using snippets of genuine classroom dialogue - like when a student says a teacher's toes look like Wotsits.
"I heard someone say that in one of my classes about someone's toes, Franzmann says.
"So yeah, there are little lines throughout the history of my teaching that I've remembered."
And the name Mogadishu, she insists, was not chosen as a reference to the racial make-up of the school, but because there are parallels between the public's vague notion of anarchy in the Somali capital and in urban secondary schools.
"You know there's bad stuff and a lot of chaos," she says. "A lot of people think they've got some kind of idea, but not really. That's a little bit like schools."
Mogadishu has reached the stage after winning the Bruntwood Prize for Playwriting and the George Devine Award for new writing. It transfers to the Lyric, Hammersmith, west London, in March.
Franzmann is not the only teacher putting the pressures and dilemmas of school life on stage.
In London, the Bush Theatre is currently in the throes of a Schools Season. Little Platoons, a satire about a group of parents who take up the government's offer to set up a "free school", is written by Steve Waters, a supply teacher.
The season's other production is The Knowledge, about a struggling newly qualified teacher, written by John Donnelly. While not a qualified teacher himself, Donnelly has extensive experience in schools.
Citing the free schools endeavour and the government's decisions to axe plans to rebuild 700 secondary schools and get rid of the EMA study support grant, Donnelly says there is "something in the air about education" at the moment.
"I'm not quite sure it's true to say it's become more important. But there are certainly significant changes happening."
The Knowledge, Donnelly says, is not autobiographical but was all informed by experiences in the classroom.
In one scene, the teacher takes a sex education class. "I used to teach a sex education class so lots of the banter in that and the responses from the students are based on the actual responses that I heard," Donnelly says.
But much of the action is set in a citizenship class, he explains.
"It's about the expectations that the government heaps on teachers now - you're not just expected to be a teacher, you're expected to be a mentor, a role model for students.
"To what extent is that a reasonable expectation of teachers? Should it not be enough that teachers are teaching young people how to teach for themselves? Why do we expect them to be morally upstanding citizens too?"
The idea for the play came from a session of teaching life skills to teenagers in Peckham, south London, he explains.
"It was a period of my life where I wasn't always convinced I was always making responsible choices in my own life.
"It triggered something off about strange grey areas.
"Can you actually teach people about life? I suppose that's the central question of the play."