Lowry football match painting up for auction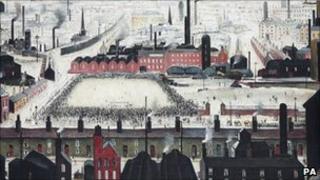 A painting of a football match by LS Lowry is expected to fetch between £3.5m and £4.5m at auction in May.
The Football Match, painted in 1949, has been described by Christie's London as "a modern masterpiece".
The work depicts hundreds of his famous stick figures gathered at a match against a backdrop of factories with billowing chimneys.
The painting, owned by a private collector, has not been seen in public for 20 years.
It will be auctioned as part of a Christie's sale of 20th Century British Art.
The highest price paid at auction for a Lowry was £3.8m for his painting Good Friday, Daisy Nook, in 2007.
Another painting of a football match by Lowry was bought for £1.9m by the Professional Footballers' Association (PFA) in 1999.
The players' union bought the 1953 picture, Going To The Match, at Sotheby's in London.
Coronation artist
Lowry was a keen football supporter who supported Manchester City.
He worked for a property company in Manchester but, despite only painting in his spare time, still managed to achieve great recognition.
Lowry was appointed official artist at the coronation of the Queen in 1953 and, in 1967, the General Post Office issued a stamp reproducing one of his paintings.
He died in 1976 at the age of 88.