British talent triumphs at Sundance Film Festival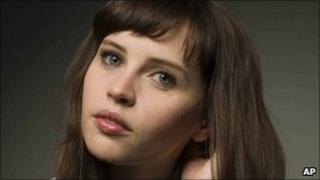 British film talent triumphed at the closing night ceremony of the Sundance Film Festival, winning several big awards.
The actress Felicity Jones won a Special Jury Prize for her role in the long-distance transcontinental romance Like Crazy, while the film won the Grand Jury Prize for a dramatic film.
Directed and co-written by Drake Doremus, Like Crazy was one of the breakout hits of the festival.
Jones views the romance as refreshing because the intense woman she plays has a "ferocious will" and takes an active role in pursuing the relationship, in contrast to the man who is more passive.
The 27-year-old star sees it as a thoroughly modern movie: "There's something incredibly contemporary about the film, it's hard to pinpoint - it totally takes on the world as it is now and how we communicate and makes a drama out of it."
Two other British actors, Olivia Colman and Peter Mullan, won the World Cinema Special Jury Prizes for breakout performances.
Human degradation
Colman and Mullan appear in the British film Tyrannosaur, playing tormented souls who develop a tender relationship.
The film, with its various depictions of human degradation, has shocked some audiences.
Succeeding in the film has meant a lot to Colman, who is currently best known for her comedy roles.
She says working on Tyrannosaur "did feel like a dream, the opportunity to do this was something I'd always dreamt of. It felt special."
Tyrannosaur was made by British actor-turned-director Paddy Considine, who won the World Cinema Directing Award for dramatic film.
Considine understands that some may find his film tough to watch, but he takes a defiant stance, stating that the abuse depicted in the picture is merely holding up a mirror to reality.
"My film is one film of thousands of films that get made every year. If this isn't your [type of] film I'm not going to apologise for it - there's plenty of other things to watch," says Considine.
He explains there is a point to the misery portrayed: "All I'm interested in is human beings and their survival, their capacity for forgiveness, their capacity to tolerate, as creatures, the horrors that are around them."
Monkey business
Another British film-maker, James Marsh, won the World Cinema Directing Award for a documentary for Project Nim.
Winning the Sundance award is another feather in the cap for this talented director, who picked up an Oscar for his documentary Man on Wire two years ago.
Marsh's film explores a landmark American experiment to determine if a chimp, who was raised as a human being, could communicate through sign language.
He hopes it makes audiences think. As he puts it, "there are questions that are asked about us as a species that I think are quite withering".
British director Asif Kapadia was also rewarded with a Sundance prize for his film Senna, which looks at the legendary Brazilian racing driver Ayrton Senna.
For Sundance winners the festival can lead to further success, in Hollywood and beyond.
Two of last year's Sundance winners, Winter's Bone and the British documentary Restrepo, are contenders in the current Oscars race.
British talent was also represented in other categories. Jazzy De Lisser was part of the ensemble in the film to.get.her, which won the Best of Next! Audience Award.
The UK/US co-production Hell and Back Again, which followed a Marine from the start of his tour of duty in Afghanistan in 2009 to his rehabilitation back in America, won two awards.
All in all, it was seen as a strong year for the British at Sundance, and many participants say that overall the festival was one of the more successful in recent memory.