Obituary: John Barry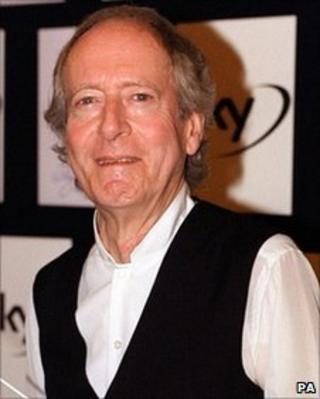 Composer John Barry, famous for his work on the James Bond films, Born Free and Out of Africa has died aged 77 of a heart attack.
One of the most celebrated film composers of his generation, Barry scored more than 90 movies over the course of his career.
But it is for his work on a dozen Bond films that Barry will be widely remembered. One of his best-known theme songs was Goldfinger, belted out by Shirley Bassey in 1964.
His Oscars were from other films: Born Free, which earned him two statuettes, The Lion in Winter, Out of Africa and Dances with Wolves.
He was honoured with an OBE in 1999 for his services to music, and was awarded a Bafta Fellowship in 2005.
Cinema childhood
John Barry Prendergast was born in York in 1933. His father ran a chain of cinemas and his mother was a pianist.
In a Guardian interview in 1999, Barry described how he fell in love with film as a toddler.
"My father had eight theatres in the north of England. I remember him picking me up, age three and a half, and taking me through these swing doors to the back of the stalls and holding me up over the barrier at the back. And I remember seeing this mouse, this big black and white mouse."
Barry trained as a classical pianist but turned his attention to jazz. He played the trumpet in the army, and in the late 1950s formed jazz-rock group the John Barry Seven.
"I didn't love [pop] music, I wasn't passionate about it. But I did want to be a professional musician," said Barry in a 1994 interview.
"So we literally listened to all that was coming out of America at that time, whether it was Bill Haley or Freddy Bell and the Bellboys, and the first concerts we did, we just copied all their stuff and did it."
The group teamed up with singer Adam Faith, and had hits in the UK with What Do You Want? and Poor Me.
Barry worked on television series and commercials, and broke into movie work in 1960's Beat Girl.
His work brought him to the attention of producers of the first Bond movie Dr No.
"The James Bond movies came because we were successful in the pop music world, with a couple of big instrumental hits. They thought I knew how to write instrumental hit music," Barry said in an interview with The Associated Press in 1991.
His arrangement of Monty Norman's James Bond theme led to him composing scores for 11 films in the series, among them Goldfinger and You Only Live Twice.
Barry's work on the Bond theme led to a court case in the late 1990s when Norman successfully asserted his authorship of the tune.
But Barry's Bond scores showcased his diverse range: big bands, guitar riffs, sweeping strings and jazz and Latin beats.
He worked with Duran Duran and A-ha during the 1980s, on Bond themes for A View To A Kill and The Living Daylights.
He also made innovative use of a synthesiser in music for On Her Majesty's Secret Service and his theme for TV's The Persuaders.
His first Oscars came in 1967 for his Born Free score and its iconic title theme.
More Academy Awards followed for the soundtracks he wrote for The Lion in Winter, Out of Africa and Dances with Wolves.
Barry also won four Grammys, a Bafta for The Lion in Winter and a Golden Globe for Out of Africa.
His many other film scores included Walkabout, The Deep, Somewhere in Time, Body Heat, Jagged Edge, Peggy Sue Got Married, Chaplin and Cry, the Beloved Country. His most recent film score featured in the 2001 war thriller Enigma.
In 2002, Barry was named an Honorary Freeman of the City of York, an honour he received at a venue in the city where he once used to play trumpet in the 1950s.
Barry was divorced three times - his second wife was the actress Jane Birkin. He is survived by his wife Laurie, his four children and five grandchildren.
He once recalled, surveying his vast body of work: "When I look back on it, I think, how the hell did I do all this?"