Come Fly With Me show gets second series on BBC One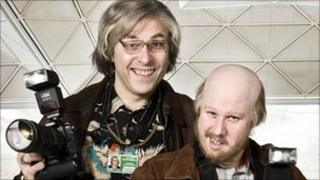 Matt Lucas and David Walliams' "mockumentary" Come Fly With Me has been recommissioned for a second series, the BBC has announced.
The comedy series, set in a busy airport, was the second highest performing show over Christmas with more than 12 million viewers.
The show included several guest appearances from the likes of David Schwimmer and Rupert Grint.
Lucas and Walliams played all the regular characters.
Just under nine million viewers tuned in on New Year's Day.
The BBC said the first episode had now been watched by more than 17 million viewers across all platforms and transmissions.
The timing of the next series has yet to be decided.
BBC One controller Danny Cohen said: "Come Fly With Me has been a huge hit with audiences. I can't wait to see what Matt and David will do with the second series."