Toddler helps translate Jonathan Swift love letters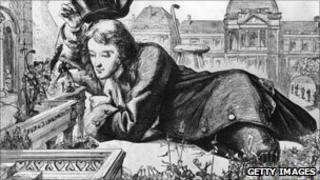 New research suggests that the language Gulliver's Travels author Jonathan Swift used in a series of letters to two women reflects the way babies talk.
Dr Abigail Williams - of St Peter's, Oxford University - has studied the early 18th Century correspondence sent by Swift from London to the women in Dublin.
She said her son had helped solve some of the mysteries of Swift's text.
"If I am struggling to understand a phrase I ask my three-year-old son, who has an excellent lisp, to say it aloud for me," Dr Williams explained.
Dr Williams claims that the only way to understand Swift's letters was to read them out loud.
She has dubbed it "little language" - a form of juvenile wordplay in which consonants in familiar words were replaced.
In one letter, Dublin-born Swift wrote: "I expect a Rettle vely soon; & that MD is vely werr, and so Nite dee MD."
According to Dr Williams, this translates as: "I expect a letter very soon, and that my dears are very well, and so night dear my dears."
The letters were written to Esther Johnson ("Stella") and her companion, Rebecca Dingley.
Some of the correspondence included sexual innuendo, while Swift also used derogatory terms - such as "saucy sluts" and "rogues" - to describe the women.
Swift is best known for the book Gulliver's Travels and his satirical pamphlet about poverty in Ireland, known as A Modest Proposal.
Yet he was also known for being an Irish clergyman who had secret relationships with two women simultaneously.