Booker prize judges sent e-readers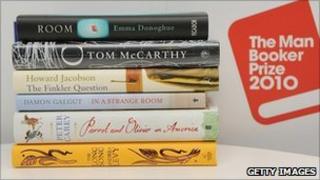 Judges of this year's Man Booker prize have been sent electronic book readers for the first time to help them work their way through more than 100 novels.
Writer Susan Hill said on Twitter that she and her fellow judges were given the devices "so they won't have to post us tons of real books".
Publishers have been asked to submit their 2011 entries in both digital and physical form.
Judges will unveil a longlist in July, with a winner to be named in October.
A spokeswoman for the prize told the BBC that the change in the submission rules was to give more flexibility.
"The technology is there, so we should use it to give the judges the option," she said.
Judges will still be able to request hard copies of the books if they prefer, the Booker representative added.
Last year the judging panel read 138 books before choosing Howard Jacobson's novel, The Finkler Question, as the winner of the £50,000 prize.
Dame Stella Rimington, former director-general of MI5, chairs this year's judges, which include journalist Matthew d'Ancona and former MP Chris Mullin.
The news follows Amazon's announcement that it sold more e-books for its Kindle device in the US than it sold paperback books in the last three months of 2010.