Sundance hosts YouTube film premiere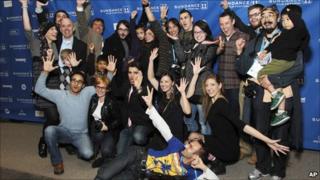 A feature film made up of submissions from YouTube's vast online community has had its world premiere at the Sundance Film Festival in Utah.
It sees the ordinary rhythms of life documented for an extraordinary experiment that will be shown on the website that created it on Friday.
Life in a Day, made by British Oscar-winner Kevin Macdonald, tells the story of a single day on earth, shot by thousands of ordinary people across the world.
"YouTube wanted to do something to celebrate their fifth birthday," says the director of The Last King of Scotland and State Of Play. "I just really liked the concept.
"It seemed very novel and unusual, and we would be using technology that had literally not become available in film until now.
"Also, there was this idea of having a vast outreach around the world."
Pleas were made via YouTube for the public to record their experiences on 24 July 2010. Afterwards, Macdonald was literally swamped with submissions.
In total he received 4,500 hours of footage, sent from 192 countries.
"We had a big team of researchers watching the clips," he says. "They gave them all a one-to-five star rating.
"Actually, we had a special six-star rating for any that were so bad they were good. I only watched the ones above four stars."
The film-makers struck lucky with their date, which happened to coincide with a full moon.
"That was a brilliant place to start," Macdonald nods. "When you watch the documentary, you are seeing the moon shot in Armenia, Malawi, Venezuela and Bali.
"The point is, however diverse we are, we're all unified under the same moon."
'Theatrical film'
Without narration, the film shows a series of clips as the day progresses - a mother breast-feeding her baby, a school bell rung in Peru, a worker eating alone in Dubai.
How did YouTube penetrate the remotest places on Earth? "We sent out nearly 500 cameras to the developing world," MacDonald explains.
"The one thing I would do differently is send less cameras out, and instead send someone trained in film-making with each camera to help people film themselves in these areas.
"For instance, someone in Northern India just does not understand the concept of an ego and self in the way we in the West do."
Yet it's such innocence and simplicity that makes Life in a Day fascinating viewing. Viewers can laugh and cry, often within seconds.
A Peruvian boy shining shoes says the thing he loves most in the world is Wikipedia, because he can learn so much. A Japanese child watches TV in an apartment crammed with junk.
The latter lights a candle in front of his late mother's picture, revealing to the viewer why his home is so messy.
"I want people to have an emotional journey watching this, to cry and laugh," Macdonald says.
'Heft and weight'
"This is a theatrical film, not something for an art gallery or for online. I wanted to make something enjoyable, yet give something ordinary heft and weight.
"We've been able to bring 20 of the film-makers to Sundance, including the little boys from Peru and Japan. They've become great friends even though they can't say a word to each other."
Since a generation is used to documenting its every move on social networking sites, does this movie mean we can all go out and make films now?
"I actually feel quite reassured having seen this," says the director. "There's definitely a place for the professional."
"You can go out with a great camera for relatively little money, but it takes a director to put a structure and an emotional trajectory to it.
"A good film is all about content and the skill of the people making it."
So could this start a trend? "I can't see how many more documentaries like this we could make," the film-maker admits.
"We've talked about doing something about the world celebrating Christmas Day, for example, but I think there's a limit."
What is interesting about the film, he concludes, is that it highlights how similar human beings really are.
"There are recurrent themes I used, like food and the production of it. I asked the people who took part to answer the question, 'What's in your pocket?'
"Someone might have a key to a Ferrari in the West, [while] someone in Asia would literally have nothing.
"But what I wanted most was to produce a day on earth which could reflect our entire human life.
"There's birth, love, sickness and death in this film, and these are the basic things that happen to us no matter where we live.
"Ultimately, it's about how connected we all are."
Life in a Day will be streamed on YouTube in the UK on 28 January at 1900 GMT. It will be released in cinemas later this year.