Jay Kay on cars, Cheryl Cole and calming down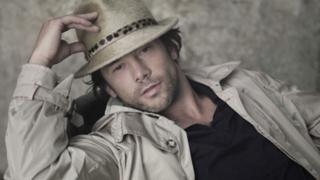 "I was dragged there kicking and screaming," Jamiroquai's Jay Kay admits when asked about his performance on The X Factor last year.
The 41-year-old's appearance hit the headlines after show judges Cheryl Cole and Dannii Minogue failed to applaud him.
Kay - born Jason Cheetham - says he had never seen the show before and had criticised it during an interview prior to his appearance.
"I said, in a roundabout way, that there was no way I was going to be judged by two people that I don't believe are in a position to judge me," he explains.
Yet he was mistaken about the format. While the panel judge the contestants, professionals like Kay perform as part of the show's entertainment and are spared their comments.
Nevertheless the star - known for his extravagant head-gear, his love for fast cars and saying what he thinks - has vowed never to return to the ITV1 series.
"To be honest, I didn't want to go on the show," he tells the BBC News website.
"People were pushing me and pulling me. I was in a very difficult position."
It has been five years since the singer-songwriter released new material.
But he is now back with a vengeance, having just announced a new tour.
In November he released his seventh album - Rock Dust Light Star - and is about to put out a second single, Lifeline, from the record.
"I think I needed a bit of time away in order to do what normal people do," he says.
"I sort of felt that life was passing me by and I wasn't getting to do all the stuff I wanted to do."
During his hiatus, Kay spent time walking his dogs, reading books on politics and cooking.
It is hardly the rock and roll lifestyle one would associate with a star who once graced the showbiz columns of every tabloid newspaper on an almost daily basis.
"I always had my back up against the press," he shrugs. "I wasn't the most popular guy with them."
Disposable artists
The interest in Kay's personal life - which saw him have several celebrity girlfriends and an addiction to cocaine he finally kicked in 2004 - led to scrapes with the paparazzi, and several arrests.
But Kay insists that such behaviour is behind him now.
"I try to keep [my life] as quiet as I can now, after they decided to name one of the cells on Savile Row 'the Jay Kay suite'," he laughs.
Despite winning a Grammy in 1997, Kay has yet to walk away with a Brit award.
"We've had 15 nominations, and it would be very nice [to win]," he concedes.
"But I've always found that we've never really been at the centre of the universe when it comes to British music."
The nominations for this year's awards have left him unimpressed.
By his own admission, though, Kay is not a keen follower of today's music, which he believes is full of "far too much of the same sort of stuff".
The music industry has changed, Kay says, with disposable artists helping to make record companies richer.
"There's no nurturing of new artists. It's all about doing singles and the fast turnover," he says.
Top Gear return
He might have 25 million album sales under his belt, a 10-bedroom manor house on an 80-acre estate and a vast collection of more than 30 classic cars, but Kay admits being in the public eye has begun to tire him out.
"There's two sides to fame and sometimes I really don't like it," he says.
"Sometimes you don't want to be recognised, particularly going out on a Saturday night. But once you're a recognised person, you can't change it.
"The other thing is the advent of the camera phone. You've got this thing where people want to record you.
"It does drive you a bit mad and it's a bit childish I find, so I'm a bit guarded who I meet. But it's horses for courses and most people are quite respectful really."
Despite what people might think, Jay Kay says he has few "celebrity friends" and enjoys meeting "ordinary people, because I'm an ordinary person".
The star - who has topped the leader board on Top Gear's 'Star in a Reasonably Priced Car' segment - says fans are now more interested about his motoring than his music.
"People always want to talk to me about cars," he laughs. "They talk to me about when I'm going back on Top Gear.
"But the people who know me know I don't live in a bubble of driving fast cars all day long.
"I don't really drive that much at all any more, because I'm either on tour or doing stuff.
"They keep talking to me about cars and environment, and I reckon I do about 3,000 miles a year," he smiles.
Lifeline is out on 31 January. Jamiroquai will tour the UK in April.