TV stars mull Sky Sports sexism row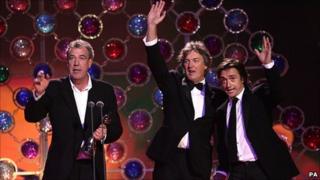 In a week when the Sky Sports sexism row has been dominating the headlines, it was inevitable that the subject would rear its head at the National Television Awards.
While some celebrities behind the scenes at the O2 Arena in London gave a polite "no comment", or professed a lack of football knowledge, others were happy to weigh in with their thoughts.
The team from Top Gear, who won the prize for most popular factual programme, initially made light of the issue.
Asked backstage if he felt there were enough women on Top Gear, presenter Jeremy Clarkson quipped: "Who do you think tucks our microphone cables in?"
It was a direct reference to the video footage that fed into the furore that has seen Andy Gray and Richard Keys leave their jobs at Sky.
Clarkson went on to say that the sexism row raised the danger of people being punished for "heresy by thought".
Quoting from an old Monty Python sketch about the Spanish Inquisition, the Top Gear presenter said: "I think we've arrived at a stage where you actually can be busted by heresy by thought, which is a terrifying place to live."
He added: "We try very hard on Top Gear not to be sexist. We don't ever say that women can't park or drive, that would be ludicrous.
"If a man wants to think that, that's fine. You should be allowed to think what you think."
Clarkson said he did not feel pressure to include more women on the programme. "I just think, 'we've got a guest', and if it's a man it's a man and if it's a woman it's a woman."
James May added that half of the Top Gear production team were women.
Chilean hero
This Morning presenter Eamonn Holmes, meanwhile, said "there's banter and there's crossing the line".
"I do three hours a day on Sky News and what keeps you sane is the jollity and jocularity around it - it doesn't have to be sexist, it doesn't have to be racist, it doesn't have to be offensive to anybody.
"But taken out of context, yes, you have to worry that you're never alone with a microphone."
Jonathan Ross - who earlier revealed that his new ITV chat show would start in October and that he hoped to persuade Brad Pitt to be a guest - steered clear of the sexism issue, saying he hadn't been following the Sky story.
Pushed further, Ross - no stranger to controversy himself - said: "Let's face it, I'm probably the last person anyone should ask for advice on that."
Ross left the BBC last July, more than a year after the so-called "Sachsgate" affair, in which Ross and comedian Russell Brand left lewd messages on the answer machine of actor Andrew Sachs.
Another big topic of conversation behind the scenes at the NTAs was Simon Cowell's plans for The X Factor - both here and in the US.
"We have to make sure that all the shows are back bigger, better, stronger, different. No-one's been contracted yet, apart from me," Cowell said.
He promised "a few surprises", and told viewers to expect an announcement "in two weeks time" regarding the US X Factor.
Cheryl Cole admitted that "the million dollar question" was whether or not she would be joining the American show as a judge.
Cowell stressed that neither Dannii Minogue nor Louis Walsh were signed up for the next UK show.
"They haven't been given a contract yet. We are in the process of going through all the shows. I think there are going to be a few surprises. I genuinely do. I don't think there's one set way of doing it."
One of the more bizarre moments backstage saw the cast of Waterloo Road - including teenage street dancer George Sampson - taking questions alongside the Chilean mining hero Luis Urzua.
Mr Urzua, at the show as an award presenter, was one of the 33 miners trapped deep underground in northern Chile in 2010.
Waterloo Road had just scooped the best drama prize, ending a run of previous victories by Doctor Who dating back to 2005.