Donald Sutherland gets Walk of Fame star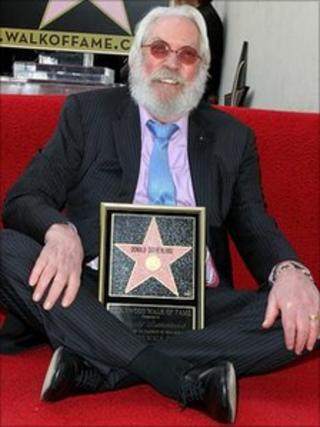 Veteran actor Donald Sutherland has been honoured with a star on the Hollywood Walk of Fame in Los Angeles.
The 75-year-old's honour was unveiled outside the Roosevelt Hotel next to the star of his son, Kiefer.
Sutherland joked that getting the star was better than a headstone at a cemetery as he could "come and visit".
The Canadian-born actor, whose career has spanned five decades, has appeared in movies including The Dirty Dozen, Klute, MASH and Space Cowboys.
"I could get a chair and sit here, or a bucket and a mop and clean it, and make sure that people don't step on it," the actor joked.
Kiefer Sutherland, who was not able to attend the ceremony because of work commitments, sent a message that was read out by actor Colin Farrell.
"I selfishly wanted to be there to simply tell you how proud I am to have you as my father and how even more proud I am to be your son," he wrote.
Donald Sutherland has starred in some 130 movies during his career.
He also appeared in Don't Look Now, JFK, Invasion of the Body Snatchers, Ordinary People and Animal House.
His latest film, The Mechanic, is released this week, while another, Roman epic The Eagle, will be released in the US next month and in the UK in March.