Oprah Winfrey reveals half-sister on TV show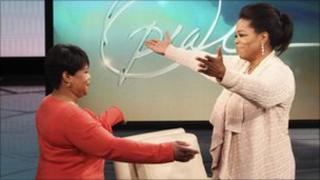 Oprah Winfrey has revealed she has a half-sister she never knew she had.
Winfrey introduced her sibling to viewers on her show, who was given up for adoption by Winfrey's mother nearly 50 years ago.
Patricia, 48, had been trying to trace her birth mother for years and eventually discovered her via a Wisconsin adoption agency.
Patricia finally met her half-sister Winfrey on Thanksgiving Day last November.
Winfrey described it as "the miracle of miracles."
When Patricia was born in Milwaukee in 1963, Winfrey was living with her father and did not even know her mother was pregnant.
DNA test
Patricia was told by the adoption agency that her birth mother did not want to see her.
Coincidentally, on the TV that day, Winfrey's mother, Vernita Lee, revealed details about two of her children who had since died.
Those details matched information Patricia had seen in papers about her own adoption.
Patricia later had DNA testing to confirm the family link.
Winfrey said Patricia had known she was related to her since 2007 but never tried to profit from her discovery, even while she was trying unsuccessfully to contact Winfrey, her mother and other family members.