Bolshoi Ballet wins three Critics' Circle awards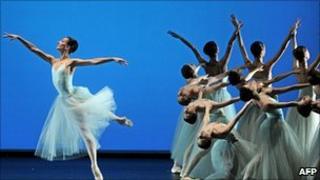 Russian dance company The Bolshoi Ballet scooped three prizes at the Critics' Circle National Dance Awards.
Its star dancers, Ivan Vasiliev and Natalia Osipova, won the best male and female prizes. Bolshoi was also named best foreign dance company.
Of the UK-based outfits, Rambert Dance was named best company and its dancer, Pieter Symonds, won best female performance in the modern section.
The annual ceremony took place at Sadler's Wells on Monday.
Alistair Spalding, the venue's chief executive, was presented with the De Valois Award for outstanding achievement.
Russell Maliphant won best modern choreography for Afterlight while Liam Scarlett won the classical equivalent for the Royal Ballet's Asphodel Meadows.
And outstanding male modern performance went to Daniel Proietto, for work with the Russell Maliphant company.
Vadim Muntagirov, of the English National Ballet, won outstanding classical male performance while Northern Ballet's Martha Leebolt took the female equivalent.
Author Jann Parry received an outstanding achievement award for her biography of former Royal Ballet artistic director Sir Kenneth MacMillan.