X Factor rapped by Ofcom over CD promotion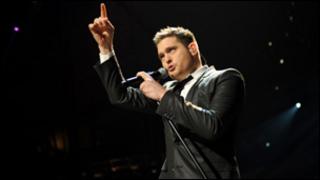 ITV's X Factor has been reprimanded by media watchdog Ofcom after being found in breach of product placement rules.
After Diana Vickers performed her single in October last year, host Dermot O'Leary told viewers they could download it from ITV's X Factor site.
Later that month, O'Leary told viewers Michael Buble's single could also be bought on the website.
Channel TV - responsible for the show's compliance - said an "unfortunate script error" was to blame both times.
It added that contrary to O'Leary's comments on the reality TV talent show, neither single was available to download via the programme website and no other information regarding the singles was available there.
'Teleshopping feature'
But Ofcom ruled the show was in breach of its rule relating to product placement after the error occurred on two separate occasions.
Five's Wright Stuff show was also found in breach of the same rule after the current affairs discussion show promoted a DVD one of his guests, comedian Tim Minchin, starred in.
During the show on 24 November, the presenter taking viewers' calls said: "And if you fancy a good laugh this Christmas, then may I recommend Tim's brand new DVD... you can buy your copy from five.tv/wrightstuff for just £12.93 and save a third off the suggested retail price."
Under Ofcom rules, programmes may promote products and services if the material in question is programme-related.
Five said, given Minchin was a guest on the show, producers mistakenly believed that his DVD qualified as programme-related material.
For material to qualify as programme-related, it must be directly derived from the programme.
Ofcom said the promotion of Minchin's DVD was "akin to a teleshopping feature".
X Factor was also in breach of Ofcom's rules for a broadcast in October last year, when it transmitted a pre-recorded performance from Cheryl Cole, featuring flashing laser lighting effects.
Ofcom received a complaint from a viewer who was concerned about the distress the flashing images may potentially cause to photo-sensitive viewers.
'Particular caution'
The Broadcasting Code states that broadcasters must take precautions to maintain a low-level risk to viewers who have photosensitive epilepsy and should give warning if they do go ahead with such lighting.
Channel TV said it had hired special devices to test the laser lighting for ITV and had given a verbal warning at the beginning of every programme.
But the devices did not seem to have worked and the company said it "deeply regrets any upset or harm caused to viewers".
Ofcom tested the programme and found that for one sequence during Cole's performance, lasting just over five and a half seconds in total, nearly four seconds of non-compliant material was found.
It advised Channel TV to "take particular caution" given it was the second time the show had been found in breach of its flashing images rules.