Glee cast break Elvis Presley UK chart record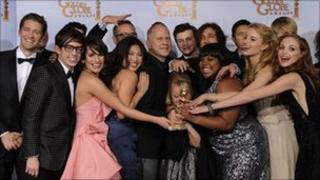 The cast of US TV series Glee have broken Elvis Presley's 50-year record as the act to score 20 top 40 hits in the shortest space of time.
Their cover of Britney Spears's hit Toxic entered the singles chart at number 40.
It took the Glee cast 57 weeks, compared with Presley's 88 weeks, to achieve the feat.
The group now has three top 10s and six top 20 hits under its belt and have sold more than two million singles.
"This is a quite amazing achievement by the Glee cast to be in the same company as the likes of Elvis Presley, in fact beating his 50-year-old record," said Martin Talbot, managing director of the Official Charts Company.
Beatles record
Glee, about a high school musical group, won best TV musical or comedy as well as two supporting actor prizes at the Golden Globes.
The show was among the American Film Institute's Top 10 television programmes of 2010.
The cast also beat The Beatles' record for the most appearances in the Billboard Hot 100 singles chart by a non-solo act in October last year.
Songs from the TV show are released digitally after each episode is broadcast.